[LIBF Global Finance & European Economics Olympiad] Pegasus students won 2 gold medals!
        Release Time:2021-01-12 16:31
Recently,【2020 LIBF global financial challenge the preliminary competition】results were revealed. Pegasus students performed very well in the global financial challenge competition. Competing with students from 97 international schools and key schools, SuiShuyi won one gold medal in "financial ability evaluation" section. A total of three students: SuiShuyi until, Lu Jiantao, Zou Kunpeng won promotion award .In addition, in the "simulation of investing in the stock market" section Lu Jiantao also won a high gold- content gold medal.
At the same time, in the "2020 EEO European Economics Olympic Preliminary Competition", Huang Kaixuan from Pegasus competed with students from 113 international schools and key middle schools and won the "third prize"!
All the winners will be invited to participate in the ASDAN All-Star Game in Guangzhou in February 2021.Let's wait for the good news from the following competitions!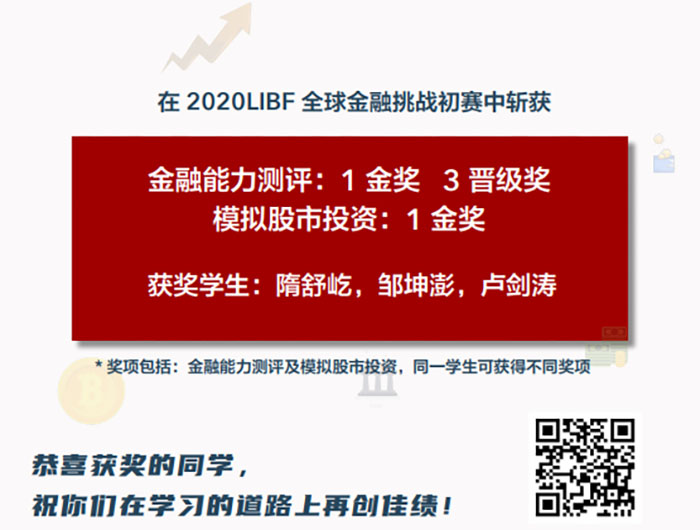 Good news from LIBF official organization
The Student Investor Challenge is the most important financial competition held by the London Institute of Finance (LIBF). It has attracted 400,000 participants from 2,500 schools around the world.
LIBF global financial challenges is a combination of the financial certification authorized by Ministry of Education and Curriculum Committee and simulation stock market investment, providing 48 hours online course, helping zero foundation contestants to promote academic knowledge background, focusing on cultivating students' interests in financial professional, training financial thought and promoting financial conception and financial ability; Participants can also experience rapid response to real-time financial news in an uncertain market, risk control and investment decisions based on major international news and information. This preliminary competition is an individual competition, divided into junior group and senior group. The junior group carried out section one [financial ability assessment] while the senior group carried out section 1 [financial ability assessment] and section 2 [simulated stock market investment].
European economics Olympics originated in the Czech republic in 2016.The Olympic activities are hosted by the Institute of Economic Education in the Czech republic Economic Education society is to help high school students from the Angle of the European Union to promote economics related Education, training students the logical thinking, problem solving and critical thinking ability, stimulate students interest in the profession's academic and professional development to foster economic and social leaders of the future. As a new international economic competition, it got support from the Education Ministry of the Czech Republic, the Central Bank of the Czech Republic, Prague School of Economics, PWC and other government agencies and famous enterprises. At present, 20000 students from more than 550 high schools participate in it from Hungary, Greece, Poland, Germany, France and other European Union countries each year with the influence expanding constantly and more European Union countries gradually participate in it.

LIBF Global Finance Challenge 2020 preliminary round event information

Junior High School Group & Senior High School Group

1. Only the players who have won more than promotion awards are eligible to win gold, silver and bronze awards;
2. The test is divided into three units. Only those who pass all three units can get the promotion award (primary financial ability certification).
Senior High School Group
to the above students for their good performance in this competition and successfully getting a ticket to the finals of the China's division. I wish them a good performance in the following finals of the China's division. I hope that more students can actively participate in the LIBF Challenge and learn and experience the fun of finance together!
2021 All-Star Game event information
Creation of the Universe Battle of Conferring the title of Gods: A Call for the Titans of Economic Innovation and Social Sustainability