To be the first International school to obtain across Qingdao! 34th ranked in U.S. University, Rochester offer by early application went to Pegasus!
        Release Time:2022-03-07 09:47

The 2022 application season has officially kicked off
Good news for Pegasus students!
After winning the written test offer from Imperial College,
Offers from Waseda and other universities
Another offer from the US university!
Ranked 34th in the United States, 2022 USNews
Known as one of the new Ivy League schools
University of Rochester offer
This is also the first ED OFFER of International School!
2022 application season US-directed early application offer list
Pegasus comes out on top!
Everything is moving in the ideal direction!
Flowers in spring and fruit in autumn.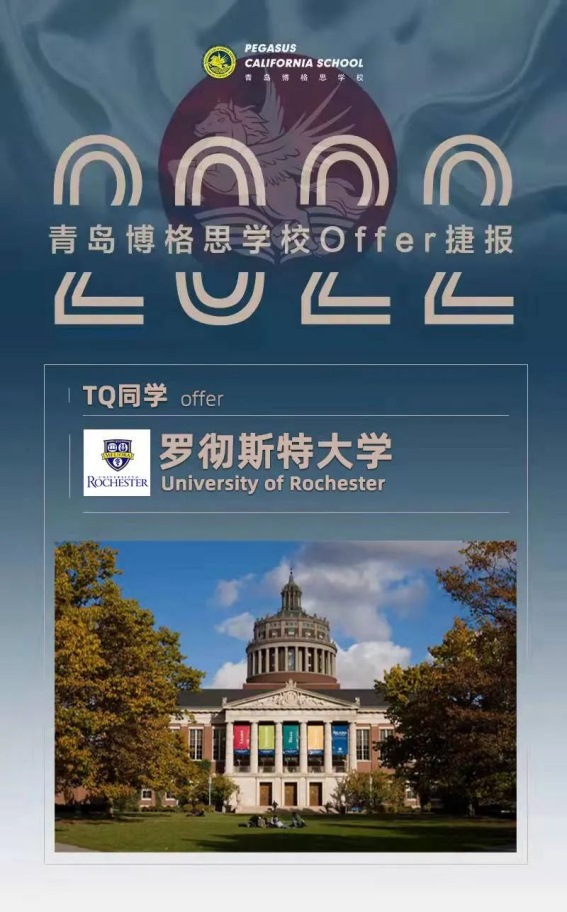 University of Rochester: 34th in the 2022 US News American University Rankings
The University of Rochester, referred to as ROC, was founded in 1850. It is one of the world's top private research universities, one of the "New Ivy Leagues", a member of the American Association of Universities, and a member of the World University Alliance. Seven of the school's scholars are members of the National Academy of Sciences, and 18 scholars are members of the American Academy of Arts and Sciences. Among the faculty and alumni, 12 professors of the school are Nobel Prize winners and 12 scholars have won Pulitzer Prizes. The University of Rochester is ranked 34th in the 2022 U.S. News American University Rankings. As a top-ranked university in the United States, the university has 6 colleges and offers more than 175 bachelor, master and doctoral courses. Among them, music, economics, finance, quantum physics, psychology, computer and other majors enjoy a good reputation, and most of the majors offered are ranked high in the United States.
When dreams come true,
Behind all the surprises,
Let's congratulate TQ students again who drenched in unknown sweat and tears!
"Pegasus has dreams, the world can reach"
Looking forward to more students harvesting the olive branch of their dream schoosl!