"Be Grateful" Parent –Teacher-Student Evening Gala& Parent Conference. Not just wonderful!
        Release Time:2020-11-26 15:09
Gratitude is a lamp that illuminates your way.
Gratitude is a tree that makes us have a place to live when we're tired.
Gratitude is a sweet spring, which can moisten your and my thirsty heart.
Gratitude is also an emotion and a responsibility no matter how far from the beginning to the end.
As long as you have a grateful heart, you can continue to make progress!
Gratitude is a kind of motivation, pushing you and me to work hard and be enterprising! On November 24, 2020, Pegasus Parent-Teacher-student themed evening gala "Be Grateful" successfully concluded!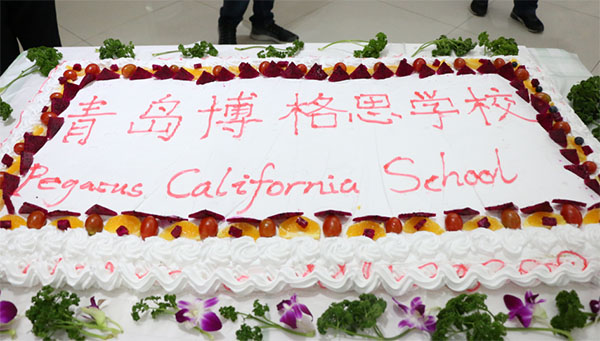 Fantasy of nature around the beam
Jump and shine your youth
We grow up in at Pegasus
Guests took their seats. The spotlight gathered in the middle of the stage. Pegasus four handsome and beautiful little hosts in different grades Nikki, Sarah, Frank and Peter came together on stage. The hosts spoke both Chinese and English and the party started with the opening speech!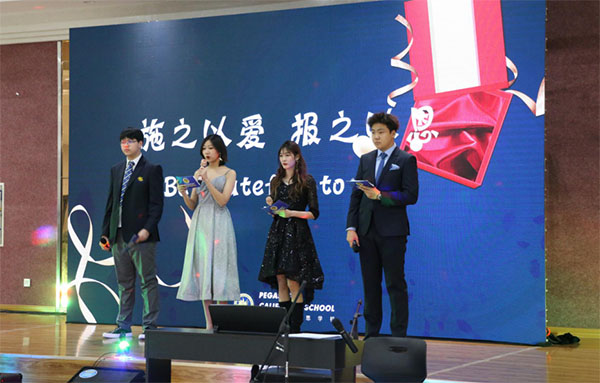 Afterwards, Chinese headmaster Echo and academic headmaster Mr. Robert Taylor delivered the welcome speech, announcing the party to officially start!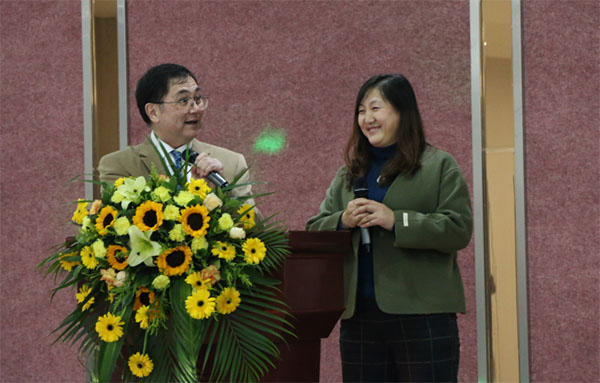 Youth is like poetry. Those seemingly ordinary days at Pegasus are wonderful and brilliant. Here are various stories, laughter and being moved, dreams and future. Students from Pegasus New Vision Club bring us a wonderful home-made micro-film" One Day at Pegasus ", which uses a unique perspective and professional production to discover and record the beauty that belongs to them.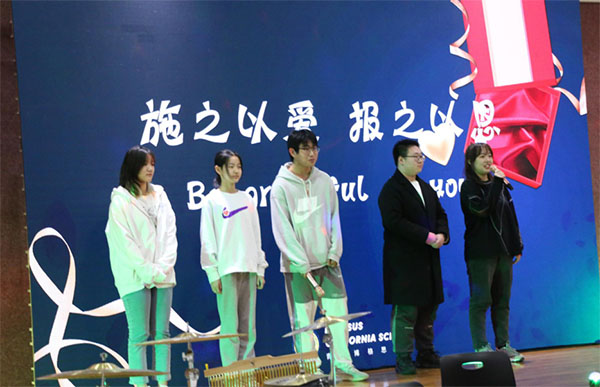 A day of Pegasus | New Vision Club
The rainy south of Yangtze River, poetry and painting lingering, misty rain, misty eyes and drunk green lotus. A song called Lang Ren Pi Pa by Maggie let the audience intoxicated in the antique classical music. On the rainy evening, the impression of south of Yangtze River is like a beautiful girl walking in the rain with an oil paper umbrella.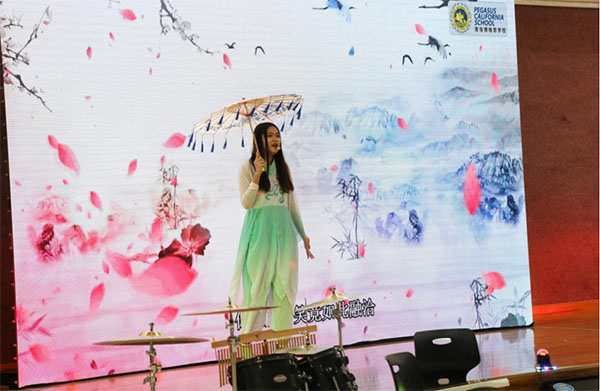 Lang ren pi pa | Maggie
Mechanical prodigy Xiao Hong, innocent Big White, mouth spitting flame Fred, wind and lightning magic girl, chemical little witch Hanie Lemon, super smart Mustard Boundless. Students in Pegasus 9th/10th grade Priscilla Ji, Edward Zhang, Jacen Wang, Nikki Pu, Evan Wang, Kevin Li save our world with their "Big Hero". Let's follow them together to give the world a kind hug!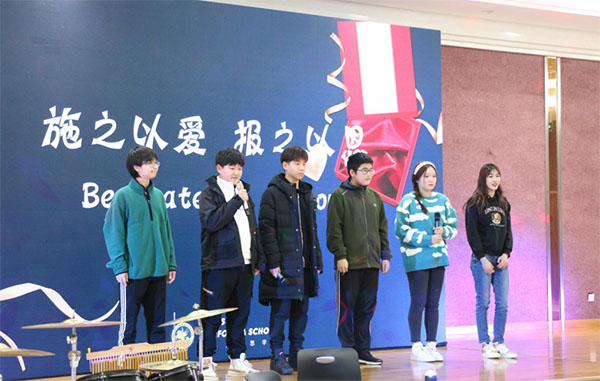 Big Hero 6 | Priscilla Ji、Edward Zhang、Jacen Wang、Nikki Pu、Evan Wang、Kevin Li
Every time, every performance, Pegasus Dance Club always brings a very wonderful performance. They can always show their passion, energy and love. And this time Julia Li, Nikki Pu, Bella Ma burned the stage with their own choreography "Helicopter" once again.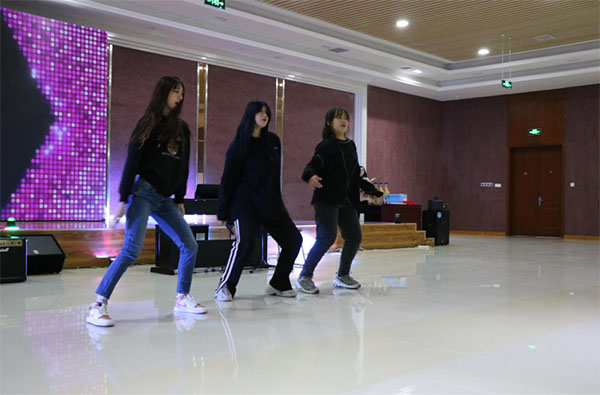 Helicopter | Julia Li,Nikki Pu,Bella Ma
On the podium, at the desk, winter comes and summers go, put in hard work; Moisturizing buds, educating students, spring blooming and autumn harvesting and complete sincerity. Then the song "The person who pursuing Light ", sung by Pegasus faculty and staff. Like the lyrics" at some moment, your light illuminates me". Do teachers not want to take care of every child with the greatest warmth and kindness? Please understand their severity, their urge and their chatter ~
If I can fly high, thank you for giving me a pair of powerful wings. When you look at me, I feel like bathing in warm breeze.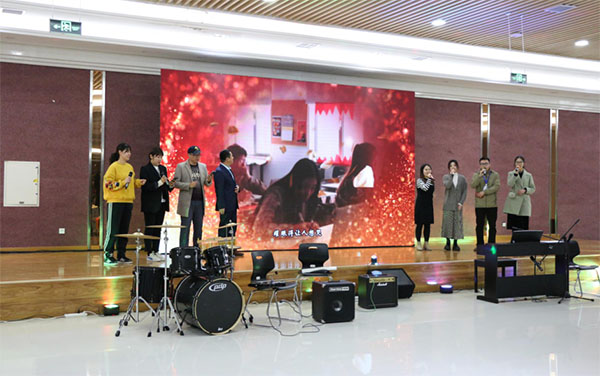 Light chaser | Frida Ge, Caroline Gu, Maggie Li, Jessica Jiang, Cindy Ye, Nicholas Qu, Fred Hu, Ricky Ren
We all know that crosstalk as a traditional language art in China pay attention to speaking, learning, teasing, singing although it can be done with a mouth, but can it is not so easy do it appropriately and bring the audience laughter. In China, perhaps the hottest crosstalk is "Deyun Society"and at Pegasus" Deyun Society" has to stand aside because here is the zone of "Boyun Society"!The hilarious partners, Alexander and Benson, made the whole audience burst into laughter through their crosstalk "Childhood Funny Things" !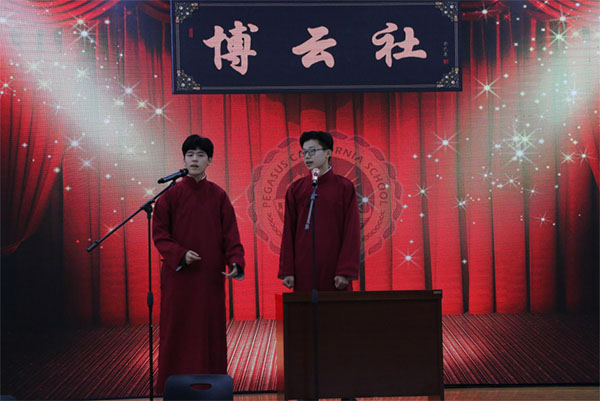 Childhood Funny Things | Alexander,Benson
Speaking of the song "The Days Living on Beijing East Road ", we are familiar with it: we do not all live on Beijing East Road, but we seem to have lived on Beijing East Road. I believe this song can always arouse the memory of our students. Pegasus teachers and students sang together "The Days Living on Beijing East Road "brought our memories back to the past, thinking of those beautiful meetings and warmth in their youth!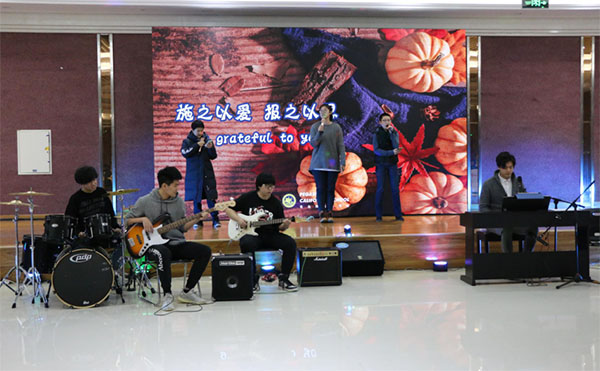 The Days Living on Beijing East Road | lead singer:Cindy、Windey、Yi;
pianist:Handi;guitarist:Allen;Bass player:Andy;drum kit player:Andy
The next performers are still from "Boyun Society" 11th grader Michael and 10th grader Jack who continue to bring us crosstalk "Thanksgiving Master ". They use love to devote and give back to the world with gratitude. They are grateful to their parents, classmates, teachers and even nature. Yes, every audience there did feel how they "ruined" the world (* ̄︶ ̄) with warm gratitude.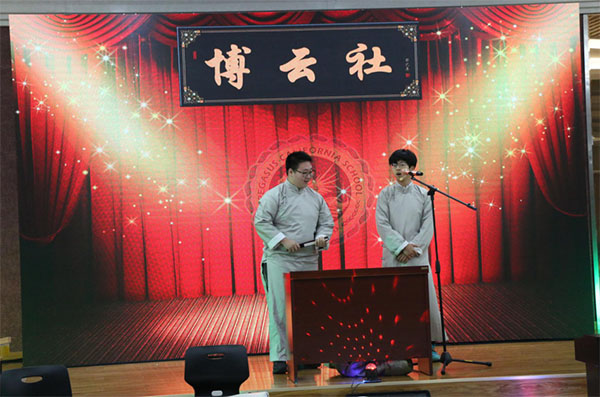 Be grateful | Michael,Jack
As we grow up, many people tell us: your smile should be as bright as the sun and your dream should be beautiful enough. When you become a perfect child, the world can see your light. But you tell me that I do not need to be a perfect child and you only wish I can grow up happily. In your eyes, I always shine. Thank you for always loving me and letting me be an imperfect child at my will. The song" The Imperfect Child " by Pegasus Campus Band is dedicated to every imperfect child who sparkles with unique light and to those who are willing to give love to our growth even if we are not perfect.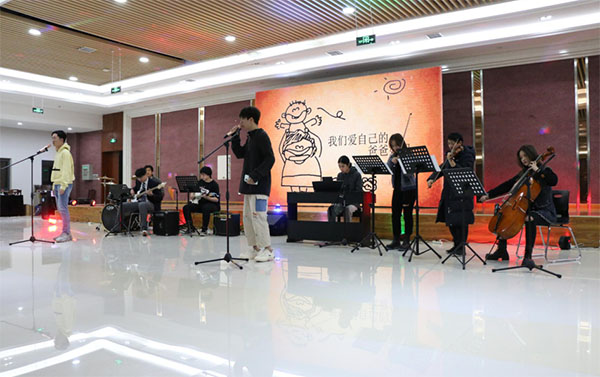 Imperfect child | Lead singer:Richard,Jackson,guitarist:Allen,Bass player:Frank
violinist:Roxy、Cindy,cellist:Daphne,pianist:Steven,drum kit player:Handi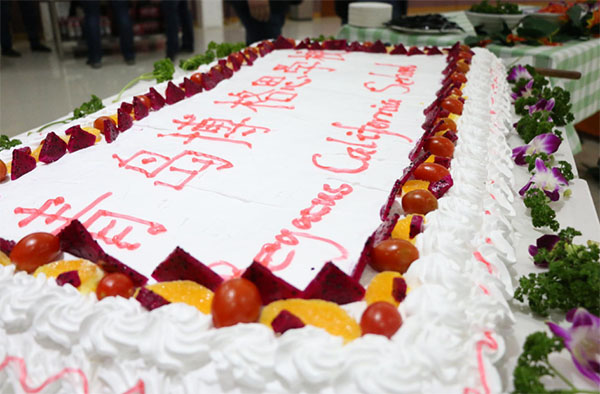 By then, the splendid evening gala is about to come to an end.
Of course, grateful people are always young
The curtain never falls down
Dreams grow wings here
Youth is shining here with passion
Let's be motivated by your dreams and make good use of your valuable time
on the broad stage of the new era
Bravely pursue dreams and create wonderful things!
on Pegasus bright road
Special Acknowledgements?
Nikki's parents offer 2000 Yuan as prizes
Mace's parents offer 6 buffet tickets for Crowne Plaza Qingdao
Priscilla's parents offer Fight the Pandemic together (Stamp) albums
Jade's parents donate 2 boxes of towels and 2 table lamps
Peter's parents offer 3 Starbucks mugs
Andy's parents offer 10 alarm clocks
Li Kunpeng's parents donate bread for dinner
Bella's parents donate tissues for dinner and 10 boxes of facial masks
Wang Guangyi's parents donated 20 pots of plant
Zachary Parents Donate Books called Lao Tzu's Family Quotes
Bart's parents donate ten gift boxes of chopstick and spoonful
Lucas Qin's parents donate two beautiful picture albums from Qingdao International Aqua Exhibition to the school library
Yulu and Yuhan's Parents donate Li Ning Jumping Ropes
Zou Kunpeng's parents donate 25-table drinks for dinner
Kevin Li's parents donate surprise mysterious bottled popcorn
Lucy's parents donate medical masks, liquid band-aid, sun scalding condensation spray, etc.
Kevin H's parents donate 2 boxes of chocolate and 4 fitness bottles
Sam's parents donate five USB disks
One Mind of Parents and School, Educate Children together for the Future
Prior to the evening gala, a parent-teacher meeting was held. Parents talked face to face with each subject teacher. Maggie Li and Crystal Hu respectively gave lectures about application plan with parents of Grade 9-10 and Grade 11-12. Through the parents' meeting, parents and teachers have reached a lot of consensus, narrowed the distance between parents and the school, strengthened the mutual trust between parents and the school, parents and teachers are determined to work together for children's study and support children's future together.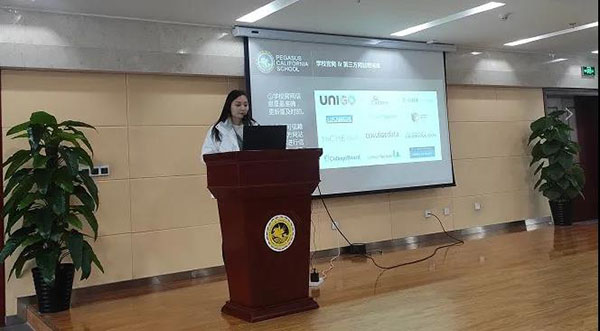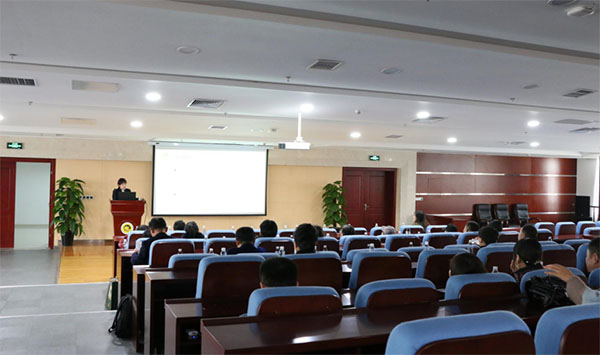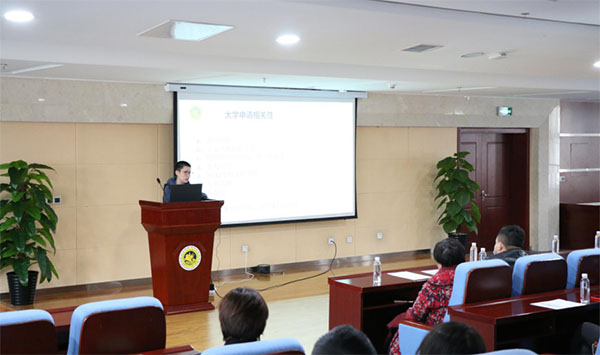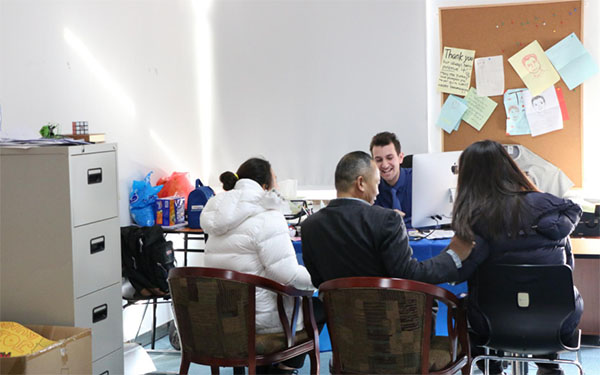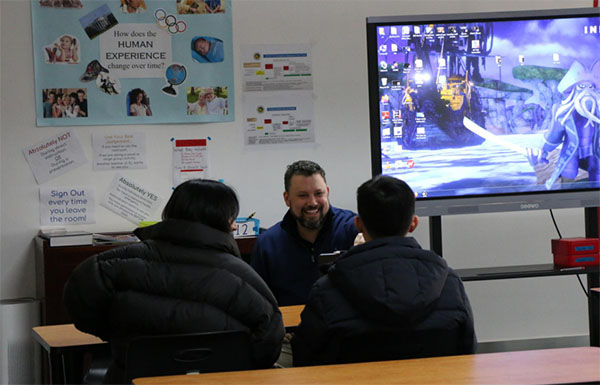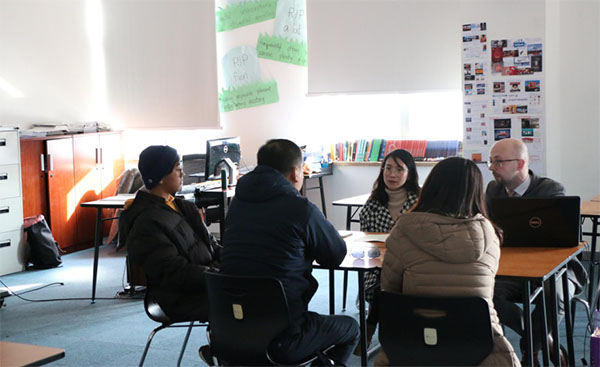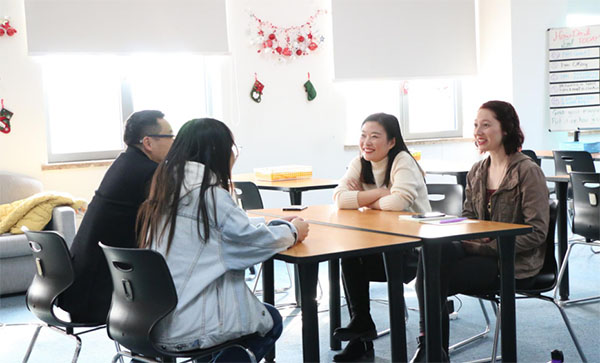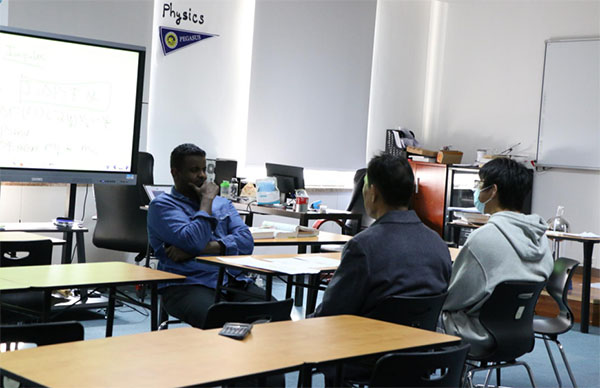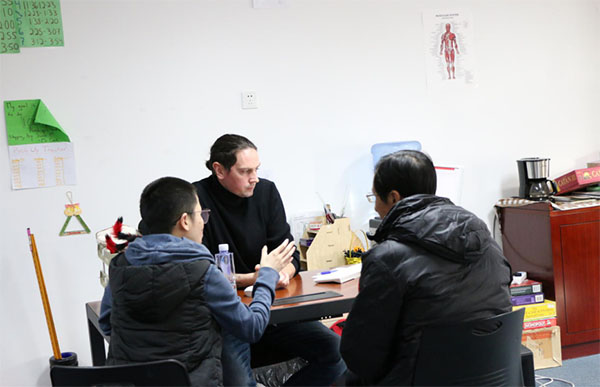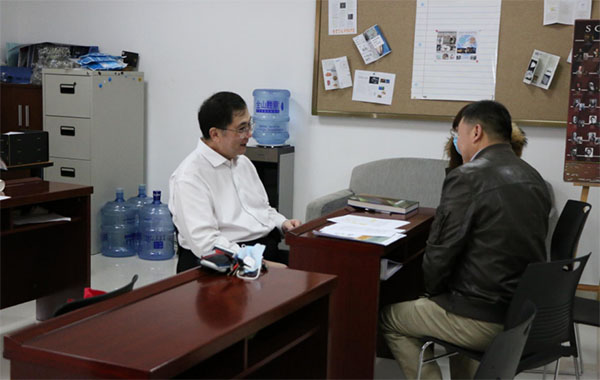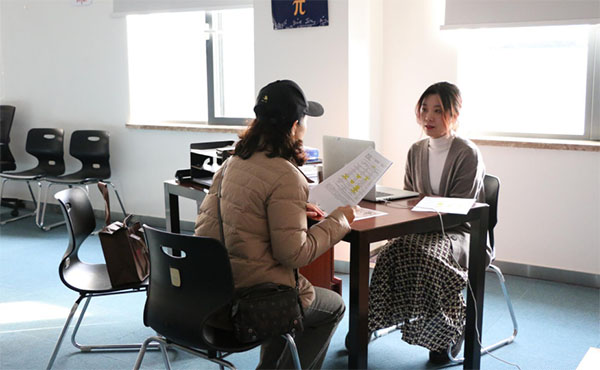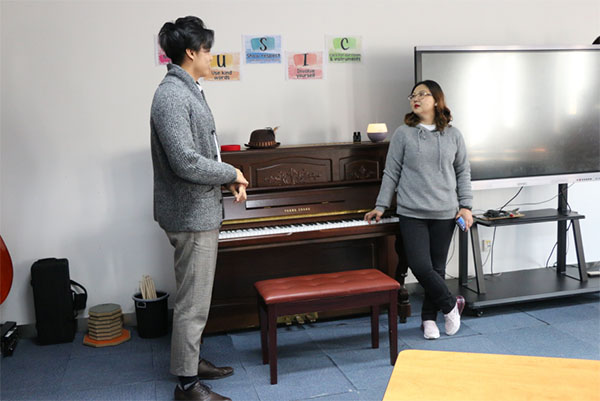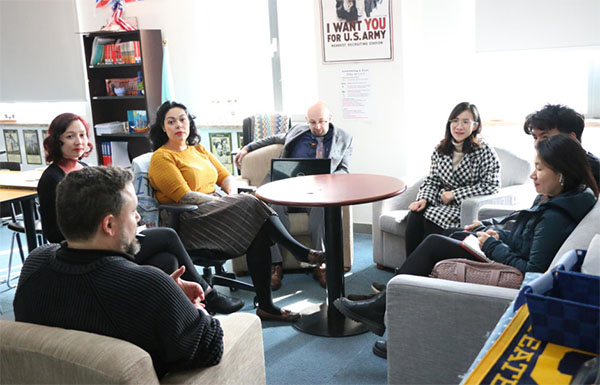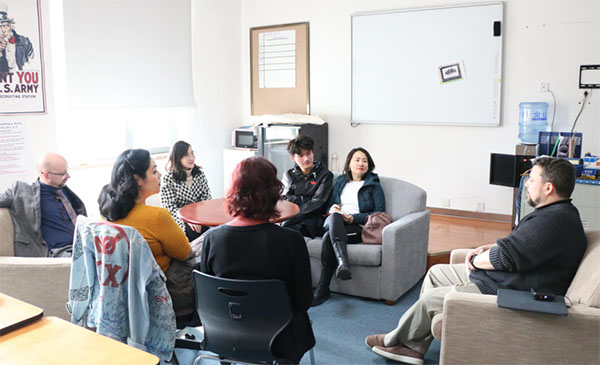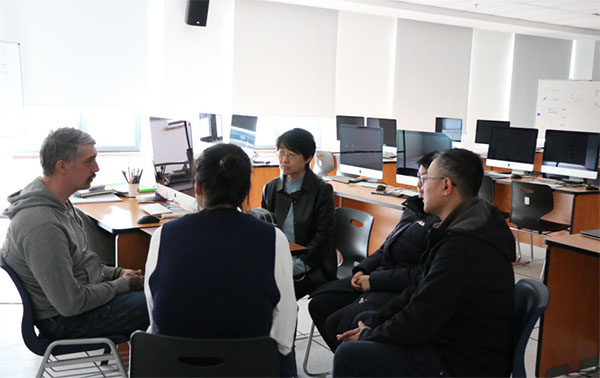 In the future, Pegasus will continue to serve as a bridge between Chinese students and world famous universities. The school's original intention is to duplicate pure international education to Qingdao and introduce authentic and high-quality international top educational resources. Share global wisdom and put international curricula into use. Let the children successfully connect with the foreign study and life after graduation, adhere to the concept of "inspire the potential of each child" with personalized, accompanying international elite education model. Let every student at Pegasus enjoy the world's top educational resources, open the door of world famous universities, educate Chinese students to become successful world citizens and achieve academic and life success. Pegasus insists on the initial intention and also adheres to the educational goal and direction. That is to take root in China, face the world, create a bridge to the world's famous universities for Chinese students, educate internationalized talents with leadership who are dedicated to the world affairs, have global vision and also care for the motherland.
Let us pull together, hand in hand and shoulder to shoulder, focusing on the development of students, accompanying the most ambitious people of this era and growing together!