Pegasus Story | Strong Attack! The Pegasus girl got an offer from the top30 NYU from her ED2.
        Release Time:2021-02-19 12:13
Also, the school you are applying for should be fully learned about in advance because you can express your personal views on them or other things in your small statements at school, so if you express ideas that match them, where you attract them very much, maybe it's a bonus point.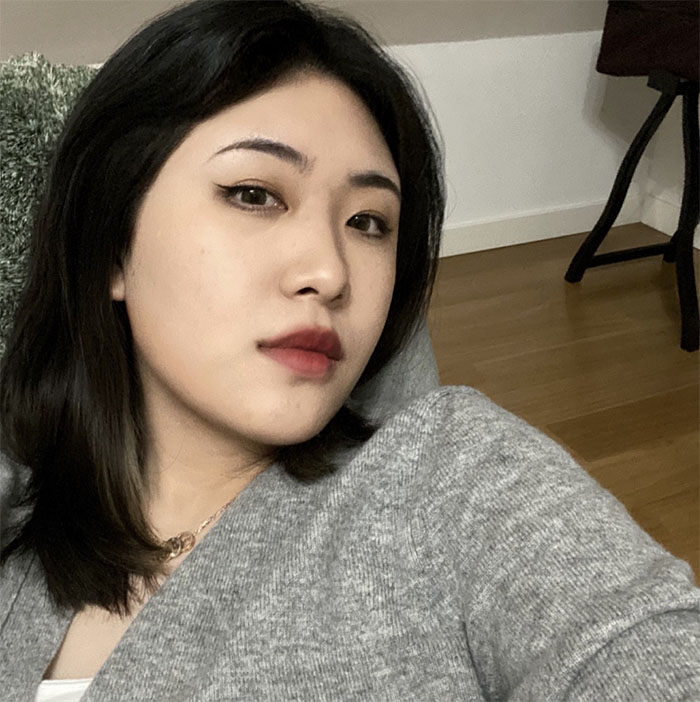 Congratulations to Amber Bi in Pegasus 12th grade on getting an offer from New York University (# 30 in US University Ranking 2021 US News)
Another offer from a famous university during Pegasus 2021 application season!
This is also the fourth NYU offer since the establishment of the school!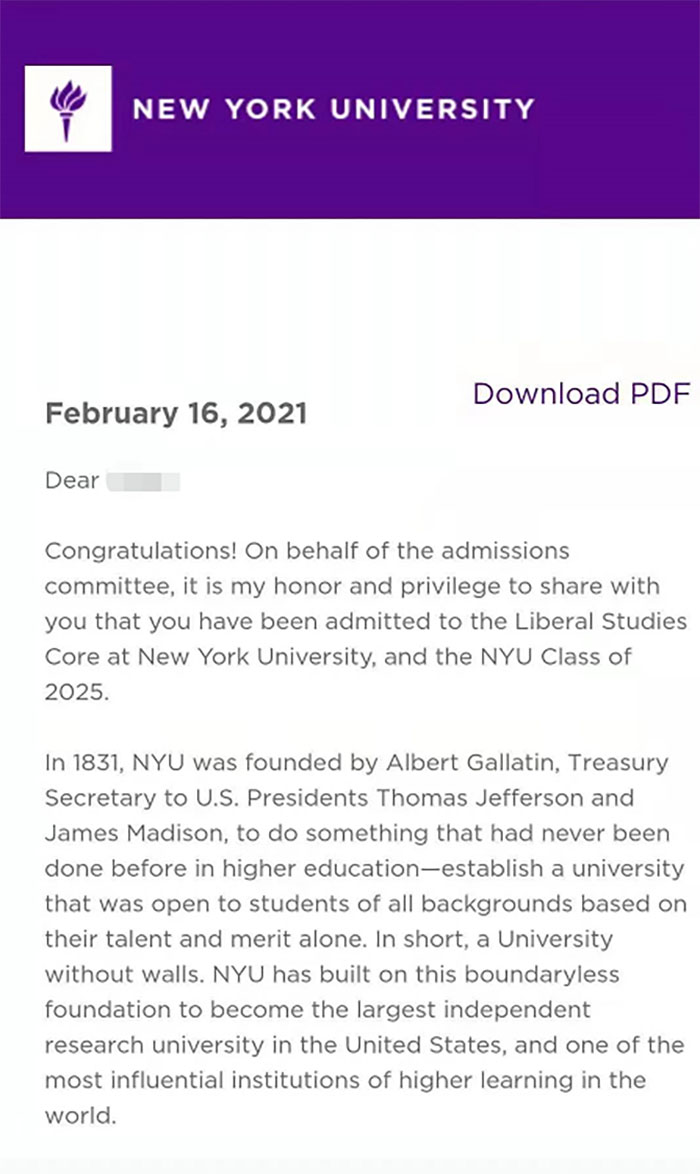 New York University
New York University has the world's top academic resources in mathematics, accounting and finance, philosophy, law, performing arts, computer science and so on. Tisch School of the Arts is one of the best art colleges in the United States and the Movie ranks second in the United States; Stern School of Business is a world-famous business school with finance and other majors in the top three in the United States; Courant Institute of Mathematical Science is the first applied mathematics research institution in the United States; Schack Institute of Real Estate is a famous high-level research institution in the American real estate industry and linked to the world financial real estate industry. Law school is one of the best "T6" super law schools in the country.
NYU is 26th in 2020-2021 THE world university rankings, 35th in the QS world university rankings, 27th in the World University of Soft Sciences rankings; 30th in U.S. News America's best university. By October 2020, New York University alumni, professors and researchers have 38 Nobel laureates, five Fields and eight Turing, And 26 Pulitzer winners, 37 Oscar winners.
Recently, we conducted an exclusive interview with Amber. The following is the wonderful interview.
I'm happy to be admitted to NYU
Hello, everyone! I am Amber, Pegasus 12th - grade student. I've been at Pegasus since the ninth grade. I just got an offer from NYU. Founded in 1883, NYU Is a private research college in New York and my GPA is 3.85. My TOEFL score was 100 and didn't take SAT exam this year. I am really happy to get offer from New York University!
The reason why I applied to NYU is that my ED1 application was rejected, so I tried to apply for New University in ED2 .
Prepare for the application season, teachers and students work together
PL Windey and Counselor Crystal always stressed the importance of GPA to me, so I tried to keep GPA around A. With the school's application plan, I began to prepare for the TOEFL exam in the next semester of grade 10. Moreover, Ms. Efferding and Mr. Schembari wrote letters of recommendation for me and I am very grateful to them!
As for extracurricular activities, I participated in the UCI summer school program tailored to us by the school and participated in a lot of club activities in the school. Several years of club experience have trained my leadership and teamwork skills. These experiences and the qualities I have gained are reflected in my application form. I believe they are of great help to my application.
On the other hand, first of all, I studied a wealth of AP courses in the school. In addition to my application, I also applied for two online EDX courses ( Harvard University and MIT) last semester, UBC Ecodesign and Architectural Imagination of Harvard.
Vision for the Future
Fortunately, I was admitted to New York University in my ED2 and there is no need to do the regular round of applications, which means that I am free from more application work in advance! In the future, I don't know whether the future class will be online or offline, a little curious about what life will be like. For me, I still want to study abroad. After all, New York University has a lot of branches. I can choose to study in my favorite city.
Advice to Younger Schoolmates
To me, I think both GPA and TOEFL are very important because it is difficult to take SAT exam for the epidemic reasons, so these two items should be very important factors for college selecting students in the epidemic years. I suggest that the average GPA in grades 9 to 11 should be above 3.5, which will be of great help to the application. Then you must start early preparation for TOEFL, of course, extracurricular activities are also very important, try to do different ones from others with more distinctive features.
And the school you're applying for should be well learned about in advance because you can write about your personal views on them or something in your papers at school, so if you express ideas that match them or attract them very much, it may also be a bonus point. After all, American college admissions officers are very smart. They can see if you really love the school you choose and whether you are the student they want.
Pegasus made me more independent
I feel that I have changed a lot in my personality, and the most important thing is to become more independent, because Pegasus campus life is more like an American high school lifestyle, completely different from my previous environment. I am not a local student. Plus, the English only Policy that the school has been advocating makes me more mature in the process of adaptation.
In addition, because the system of learning courses is different from that of ordinary international schools in China, including the teaching methods of the teachers, they are very "American ", so they used to be a challenge for me. Four years made me adapt to this way and gradually adapt to the way of critical thinking.

Let us congratulate Amber Bi again!