Pegasus Story | Pegasus star twin sisters, they "have consonance to each other", "Skilled in both brainy and brawny activities "!
        Release Time:2021-02-19 12:13
The school offers a double dormitory. We live together as twins and have very similar habits and personality. Living together is very appropriate. We usually complement each other in study and life.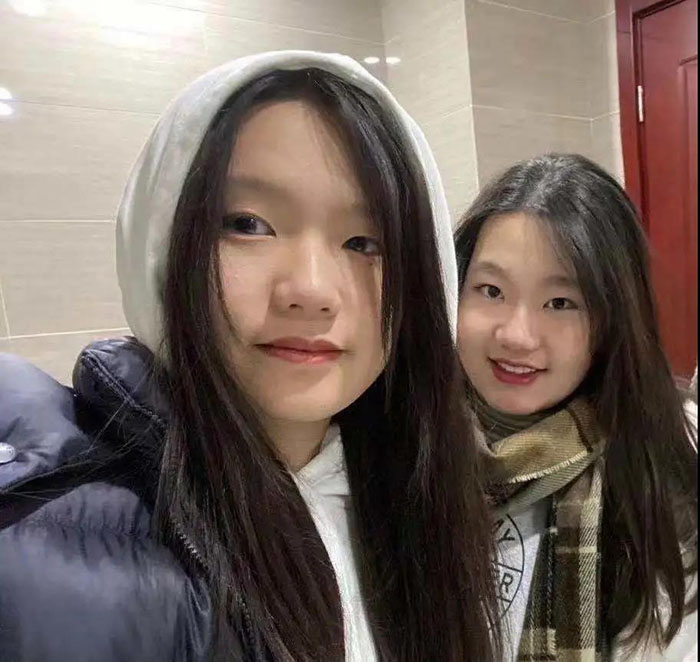 Older Sister Helen, Younger sister Amy
They're a pair of "star sisters" not just because of the special identity as twins.
——
Pegasus girl's basketball team led by older sister Helen has "no rivals" in Qingdao.
As the president of Student Government in her grade,
younger sister Amy got "Best debater" title, the highest personal honor in NSDA debate contest Qingdao Division.
The two sisters have consonance to each other.
They took part in the debate competition together and won awards together.
They help each other in study and life, skilled in both brainy and brawny activities "!
We interviewed them separately recently.
Today's "Pegasus Announcement" will take you to learn about their story!
The following is the interview with them.
Older Sister Helen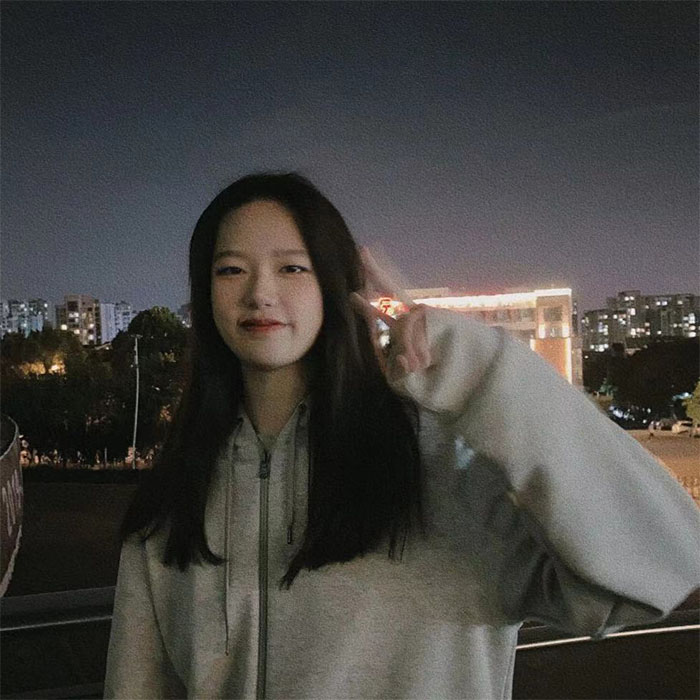 The debate made me have obvious improvements in my ability of expression and English level.
Hello, everyone! This is Helen, a10th grade student and the second year at Pegasus. I have a twin sister Amy, also a 10th grade student, also the second year at Pegasus.
Over two years at Pegasus, all the improvements in every aspect are obvious.
My two-year experience in Pegasus was that I took part in NSDA and NSDLCc debate competitions and got a relatively better place. In fact, after coming to Pegasus , we can obviously feel obvious improvement , whether the ability to express or English level.
I think Pegasus itself is the pure teaching environment in English. Students and teachers get along well with each other as very happy friends. Sometimes we have lunch together or after class when we have questions, we go to them for help at any time. Therefore, we can clearly feel the progress in all aspects by participating in the debate competition and also achieved good results.
Debate contest is a platform to improve yourself.
For me, I think it is a very good platform to strengthen myself, which not only strengthens my comprehensive ability, but also gives me extra points for my future application. Considering these factors, my sister and I joined the debate together.
We are one team!
For the debate, most want to thank the school teachers and students, we have a debate community at school, in which the teacher gave us professional guidance, give us learning materials, give us training, and so on; and students, Including the president sarah, previous articles reported to her, she has participated in the competition, can help us win some valuable resources. A: We are a team, We sit together every week to discuss arguments, arguments and arguments, and I think the school provides us with a very good atmosphere.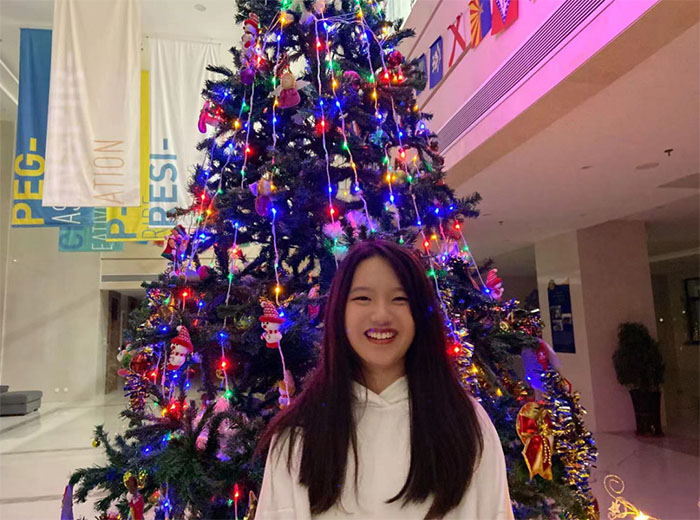 Older sister Helen

Setting up a basketball Club
Women do not lose to men.
Setting up Pegasus Girl's Basketball Club which made outstanding achievements
We also set up Pegasus Girl's Basketball Club together. Now there are more than a dozen members from all grades of Pegasus. We usually carry out regular training ,1-2 times a week ,1 hour each time. Last semester we also played several games with other international schools with the help of our teachers, not only winning the game, but also winning with a big score gap. I think it's great. We have our own team uniforms, our own slogan, even cheerleaders. We are a regular team.
Take the "relay baton" from older female schoolmates
As for the founding of the club, we had Pegasus Girl's Basketball Club before, which was organized by my 12th grade older female schoolmates. Most of the members were also 12th grade students, but after their graduation, the basketball club was short of many members. They did very well before. We thought we should continue to do the basketball club at that time, so, I and several other schoolmates did some presentation at the club recruitment ceremony with the boys' Basketball Club. We attracted a lot of schoolmates to join us.
Basketball is Helen's favorite sport since her childhood. Basketball Club has improved her comprehensive abilities.
I started playing basketball from my elementary school and as a team captain we got the second place in Shinan District. I initiated the girl's basketball team and communicated with the counselor and schoolmates. We played a game with another international school in Qingdao. I also contacted their students. There were a lot of problems, including the venue, time and audience. Through the organization of these games, I strengthened my sociable and organizational, communication and coordinating issues abilities.
Try to get more honors in the future
One of the things that impressed me in the basketball club was the last time we played with the international department of a public school. One of our main players twisted her wrist in the course of the game. Although she was hurt, she still took the responsibility of the main players. I think she was very impressive. We were united and a team with a sense of collective honor. I felt very moved.
Recently, we also communicated with the activity advisor. This March there will be an international school basketball tournament. We also want to make the best use of time to practice and get a better place through our own efforts.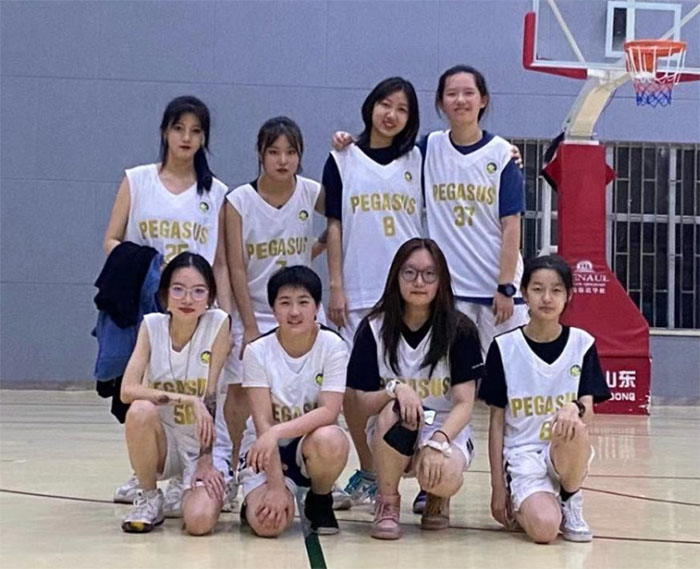 Helen and Pegasus Girl's Basketball Team
Younger Sister Amy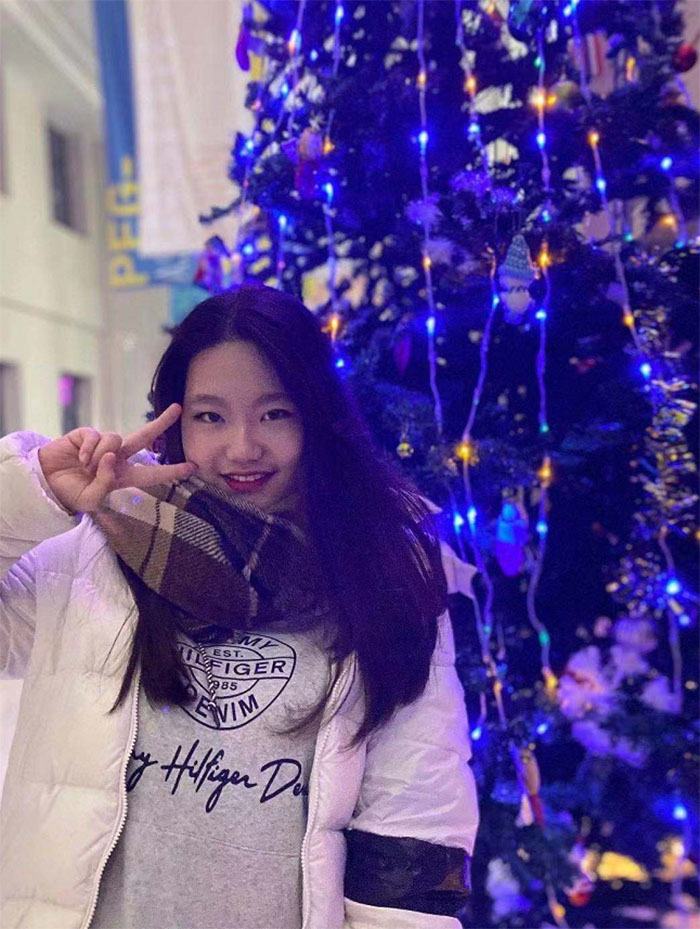 I'd like to see how much my potential is.
Hello everyone, I am the younger sister, Amy. First of all, Helen and I took part in the two debate competitions which were just mentioned. I was the first debater and she was the second debater. We had the same place. I also won the title of "best debater" in NSDA competition Qingdao Division.
I want to challenge myself.
Why did I go to the debate competition? I mainly want to see how much my potential is. Although I look more outgoing, but for me, speaking in front of others or expressing my views are not easy. I just want to challenge myself through activities.
I have not got any systematic professional debate training before. It is difficult for me to speak in front of others, let alone in English. So, I think it would be a challenge to debate with others in this case.
I admire those people who are so good at debating very much.
In the future, I think I will go as well if there is a competition. After all, the first two competitions meant two good experiences. I admire those who debate very well now. I think they must be very good in all aspects to complete a pre-debate preparation. My older sister and I quarreled in the dormitory when we were preparing for the debate. The dorm supervisor asked us why we were fighting. We said we were preparing for the debate. Haha.
Our advantage is that we're twins.
We can achieve good results in debate competitions mainly because we have more tacit understanding. Our advantage is that we are twins. The school offers a double dormitory and we live together as twins. We both have similar habits and personalities. Living together is quite appropriate. We usually complement each other in study and life.
So, we must have a better understanding than the temporary team players. If I miss out on the argument, she will help add my missing points in the next round. Or, she miss out some points and I will add them. The missing points will be much fewer.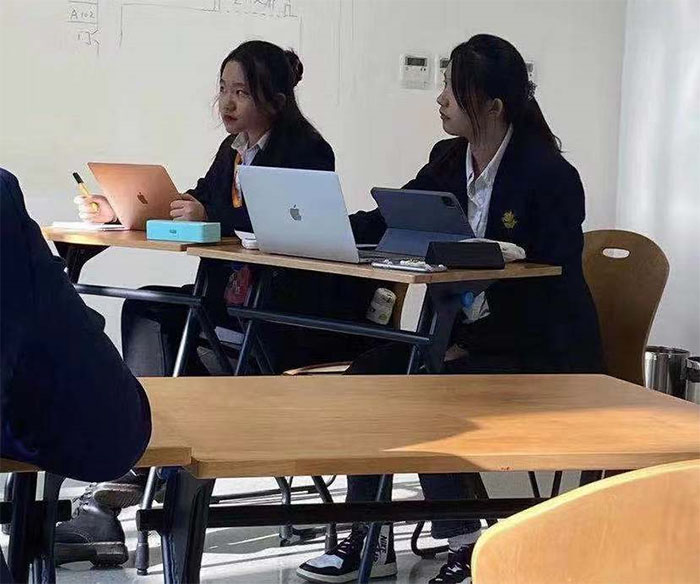 Older sister Helen and younger sister Amy at the debate contest
International schools can also have traditional Chinese culture club
It means a lot to me.
The club I founded is called "Chinese Traditional Culture Club". The original intention was that when I was a freshman, I began to learn calligraphy. Now it is the tenth year. This is something I have been keep doing. It means a lot to me.
I wonder if the international school can have such a club. I am good at calligraphy. If other students can draw Chinese painting, write poetry, or good at Han Dynasty styled clothing and embroidery, can we do some manual interesting activities together? It was with this idea that I started this club.
Many talents gather in "Chinese Traditional Culture Club"
At present, our club has 19 members, including the teachers. In addition to my calligraphy, some schoolmates draw Chinese paintings, others write Chinese prose poems well and some are more comprehensive art students. Generally speaking, the members of our club are very excellent. We always have unexpected gains together.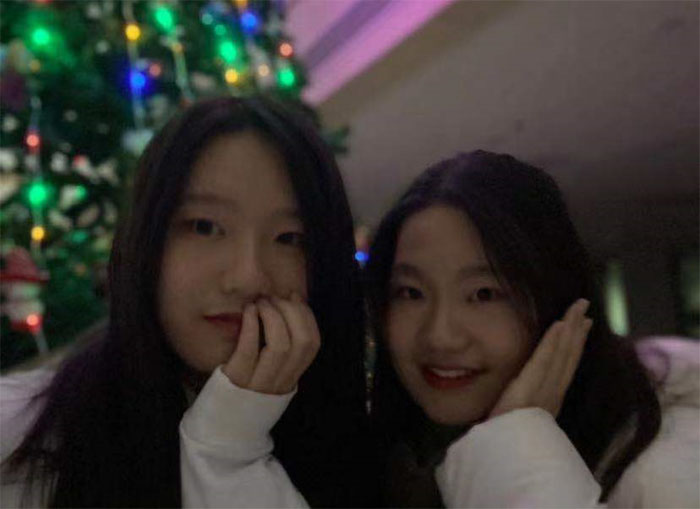 In ASB , learn from competent older schoolmates
Learn from the older schoolmates in ASB
Another thing that makes sense to me is that in my ninth grade, I became president of our grade after running for the position. Now in 10th grade, I also become the president of tenth grade. I have encountered a lot of difficulties during the two years in ASB, also seeing a lot of competent older schoolmates deal with those difficult times as well as the organization of activities. They showed a super ability and are really very excellent. I have always been learning from them.
A lot of activities of the school are held by ASB and teachers together. For example, we will encounter unexpected difficulties such as collecting funds and multi-party coordination. They always come up with solutions through their own ability or belief to overcome those difficulties. I really feel particularly moved when I see these things.
Amy gains more than ability in ASB.
Because I am the chairman of the grade, the chief chairman assigned me to the activity department in the first year and this year in the finance department, so the experience will be richer, such as our Halloween activities. Although helping to prepare, organize haunted houses and other things will sacrifice some of their play time, but I think it is very meaningful, not only to improve my organizational ability.
I and another classmate to manage this year ASB store, we usually buy, sell, discuss the way and method of sales, how to solve the problem, we discuss together, these experiences are extraordinary to me, and very meaningful, will continue to do.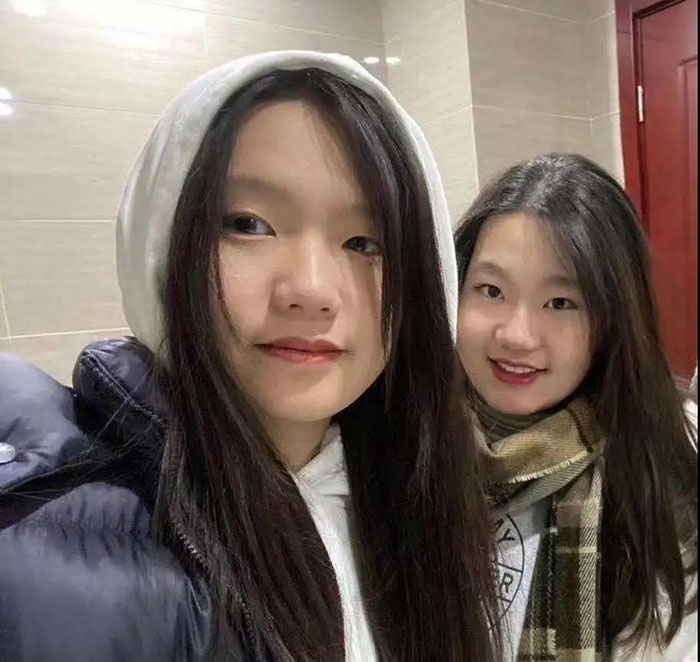 Public name "Amy sees the world"
Record my daily routine
Through my WeChat Official Platform, record my routines or some ideas at any time.
I wrote the first article for my WeChat Official Platform, which is called "Amy sees the World " and has 9 updates so far. The original intention is not a lot of considerations. I think there should be some records in normal life. The written output at any time is also a very organized thing for me. I think I need to have this habit. Of course, I will not give myself too much pressure at any time or when there are some hot events, I will write about them.
The WeChat Official Platform can also be used to "vent".
I think venting is a very efficient way for me to write WeChat Official Platform articles. I have an article about "what the children of our international schools are like". That is because I posted about a lot of assignments in international schools on my WeChat Moments. I didn't expect this to have "sarcastic" response from the students studying in the public high schools now. It's said that you have little homework. What about changing with us?
I think this completely reflects the whole society's prejudice against international school students. I' m a little angry. I want to write about it and tell them that we are not like how you think we are very often. Although this matter does not affect me, I just write it out. The mood will be much better.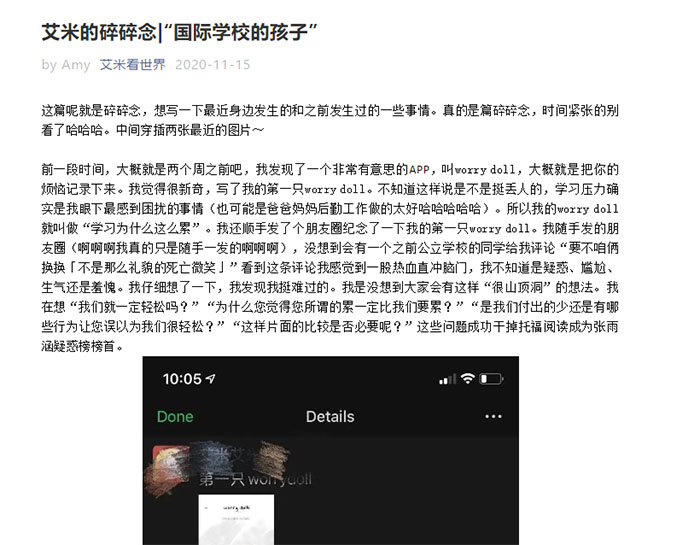 I'd like to write about " anxiety about appearance" recently. Because recently I saw Zhao Wei shooting a female monologue "hear her saying ". I think the theme of the first issue is particularly good. I am now asking some students around me, including questions on Chinese Quora. I would like to see how "anxiety about appearance" affects schoolmates around me or people of different ages.
All in all ," Amy sees the world "also needs more attention from all of you ~!