Business talent? Philosophy boy? Athlete? Master of learning? He blooms and develops in an all-round way!
        Release Time:2021-10-27 16:06
01 Wide range of interests and hobbies
Hope to achieve success in business
Hi, I am so glad to have you involved in this moment. I am David from grade 11th in Qingdao Pegasus School. When it comes to my passion, it is actually scattered widely inclusive of sections of commercial science, psychology and philosophy which retain my exceeding engagement. But It is still preferred to identify myself as a business student and I will be dedicated to getting there in the future. In addition, I also like chess games like Go and Chess and it is hoped that I will achieve success in initiating a school chess club.
At the same time, you would find my active involvement in practical activities too many ways to count, meanwhile there is also a try where I will convert interest into actual achievement. So far, I have won the "SIC" Commercial Stock Investment Silver Award and Best Analyst Prize, the honor of the school's "HONOR ROLL" for 2019-2020 (students with GPA of 3.5 or higher in both semesters will be included in the honor roll) and the panda base Certificates of honor by participating in volunteer activities. Achievement list also includes completion of papers on stock investment and the new crown epidemic.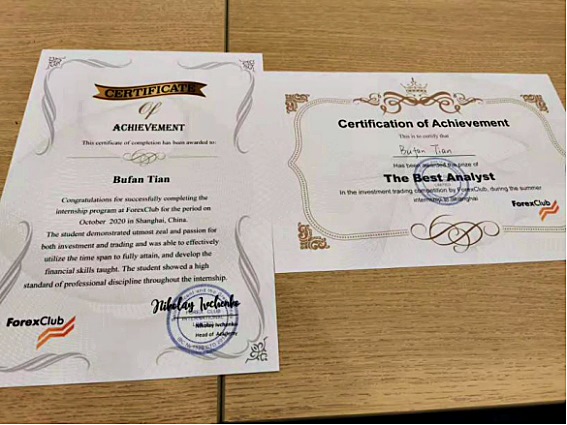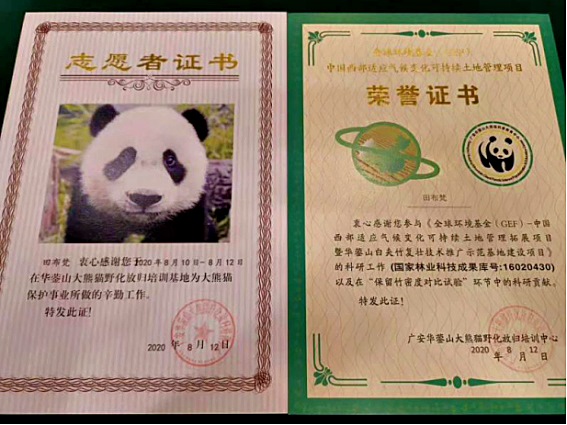 My involvement extends widely in school club activities and it can be named a lot, like table tennis club, football club, chess club, dubbing agency, and badminton club. Not only did I participate in the activities of the club as a participant, I also tried to serve my purpose in team interactions and member caring from leader's perspective striving for better society development.
In addition to the above, I will also record some videos in my spare time and post them to station B as an up. I also like to write some articles on Zhihu. Before that, I also tried to write an online novel, and this one The book was also recommended by the website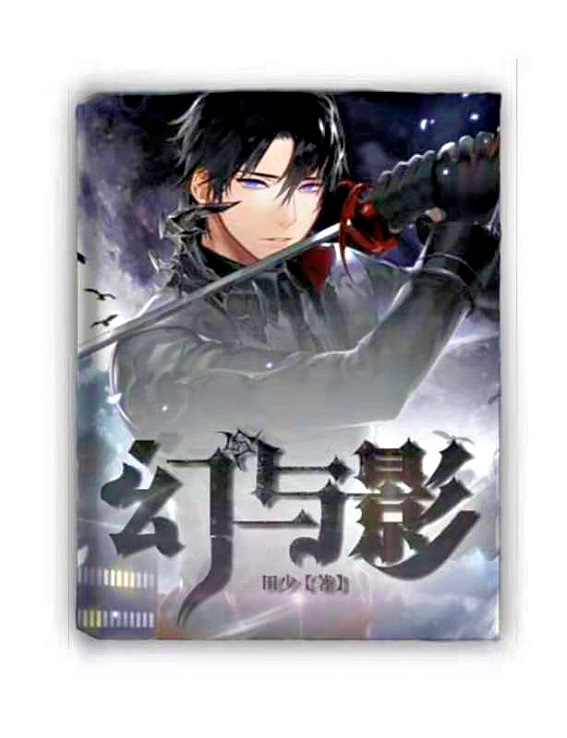 02 In business and many interests
David has gained a lot

I hope that I can achieve comprehensive development in many aspects, but among the many interests, I hope I can make accomplishment in business section. On the one hand, my fascination with business is due to the influence of my parents and my family engage in related financial aspects. The work has made me aware of the decisive influence of finance on the world situation, society, people's livelihood, and etc. So I planned to participate in some commercial competitions in high school. That is to say, whether it is GIT, LIBF, SIC or other commercial competitions, the process of participating in the competition has further deepened my interest in business. In addition, I have also formed my own knowledge system by reading a lot of books dealing with finance and business and interest has been transformed into achievements, and the accumulation of my ability help my passion for business grow.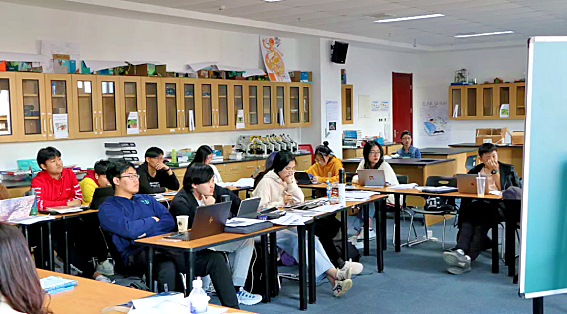 Participating in financial training courses with classmates

I usually classify the things that need to be done in order of priority, and then give up some things that affect the overall plan, and at the same time try not involved in short-term and temporary fun as possible and pursue long-term gains instead.
In addition to business competitions, I am also actively practicing in many school club activities and the football club and the table tennis club are among them where I spend the most time and energy. It can be said that they are my key part of activities. I will never be absent from those activities. In addition to keeping me healthy, I also gain valuable competitive spirit, the friendship between teammates and brothers, Personal heroism is not feasible on the green field. It must be the team's joint efforts to win the game. As a member of the team, you must unconditionally trust your partner and return to defense together if you lose the ball. Forget about who made the mistake, and 100% trust in passing the ball to teammates when attacking...I think this is my biggest gain, I am willing to be a part of the team, and I am willing to take the responsibility for everyone.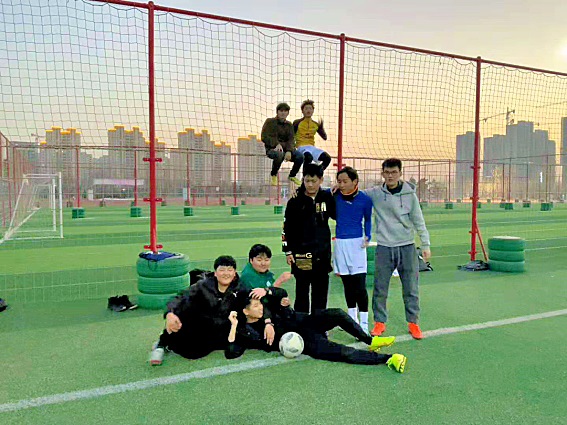 David and the football club
03 Pegasus helped me to form broader values on how the world works and stimulate my motivation to explore knowledge

After coming to Pegasus, the school brought me changes in many aspects. The first is English learning. In fact, my English has not been strong, but the school's "English Only" policy forced me to speak. In the process, the teachers also gave me a lot of help, so that I can adapt better and faster, and also be able to perform well in the study of the California curriculum system. So my GPA has improved from about 3.2 to 4.33 (2 AP's max) now, which can illustrate my change.
In terms of personality, I feel that I am calmer overall than before. I have developed the habit of observing and exploring, analyzing the things around me and understand the world from the perspective of the viewer, starting to rationally search for what I lack in personally and constantly improve oneself. The biggest change is that I started building goal, and I will work hard for it, but I don't expect to achieve it soon, because the meaning of the goal to me provides a kind of strength and guidance
In terms of extracurricular activities, Pegasus' club activities work in a way that they perform a real development of our inner preferences. If we take it seriously, we will find that we can gain gradually in activities participation. Sense of accomplishment, which in turn makes us begin to love everything we do, including my trying to write novels, make music creation, post videos on website, learn chess, learn subjects of interest, write papers, and join my favorite clubs is such a process. I think the event provides an opportunity for you to go wider.
The biggest growth Pegasus has brought me is that it has allowed me to form a relatively "open" worldview. Because the school has always encouraged us to explore and speculate, and at the same time, the school also gives us a lot of freedom to develop our own interests. It is this positive atmosphere that has allowed me to improve my cognition from a philosophical point of view. Now when I encounter problems, I will think about "why it happened that way", and I can begin to objectively summarize these things with the ideas of philosophical schools.
This made me understand a lot of things that I didn't know before. When I can see the essence of a thing, this kind of joy is unparalleled. This has become my motivation for continuous learning. I will use what I have learned to enrich the brain, allowing me to learn more about the reality of the world, filling my blood with truth, and being placed less in the moments where I am in lack of knowledge.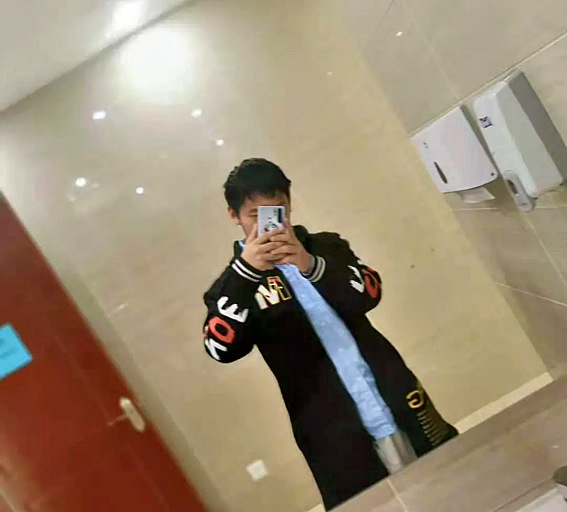 04 The greatest charm of Pegasus lies in its "humanistic care"
Advice for younger students

I think the greatest charm of Pegasus lies in humanistic care. It work probably in the same way as California curriculum system, but it is very similar to the liberal arts college in terms of the teacher-student ratio. In Pegasus, every student can form a good relationship with the teacher. Our communication is also done in a friendly way. Every student forms a very important unit of the classroom and the club. We will have more opportunities. Whether it is for further studies or social needs, they are all well met.
In the end, my advice to the juniors is that early focus on language tests required is important, and the extracurricular activities involvement should follow your heart, do some special activities that match their interests and major application. School curricula must be well taken. GPA is the top priority and should be as high as possible. Of course, make worth of holidays. Self-study of online courses, summer volunteers, internships, etc. can be arranged. Finally, if we feel that we are inferior to others in any aspect, keep working hard, achieve more and reflect more, believing that we will be capable.