The Art School Takes the Lead! An offer from Emerson College, the Prestigious Film School!
        Release Time:2022-03-07 10:42
Good news from Pegasus has been coming one after another during the 2022 Application Season! Except for offers from comprehensive universities including Imperial College, University of Rochester, Ohio State University, Waseda University and other world TOP schools, the Art School takes the lead in admission!
PCS student, AL, won admission to Emerson College, a prestigious film school ranked TOP 10 in America and called the "Cradle of media"!
Everything is moving in the ideal direction. Flowers in spring, fruit in autumn, all efforts will be paid off!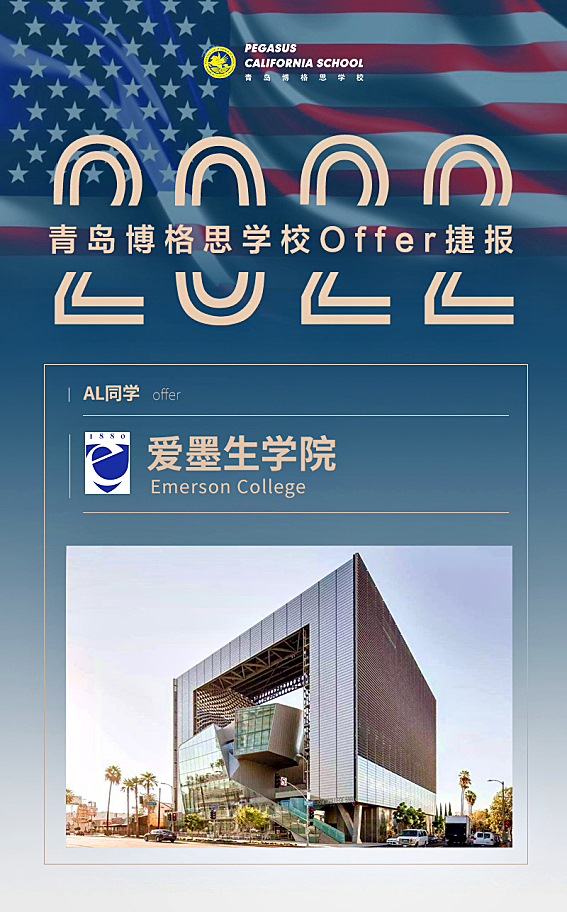 Emerson College: TOP 10 Film school in America
Emerson College was founded in 1880 as a small school teaching public speaking and debate and enjoyed a good reputation for having a leading position in that field. In 1980, Emerson College became the first school in the US to teach writing and publishing studies. In 1991, Emerson College first offered courses about children's drama and it is also one of the schools who first offered education degrees in drama, art, speech and debate, mass communication and journalism.
Emerson College is the only comprehensive college focusing on the arts of information communication and humanities in the United States and it can provide art and information media programs accredited by the New England Association of Schools. Over the years, the school has developed into an internationally recognized and diverse college with faculties in communications, marketing, communications science, journalism, performing arts, visual arts, media, and written literature as well as publishing with bachelor's and master's degrees.
The school offers 37 degree programs in arts and information media and is highly recognized by the New England Association of Schools. Emerson College has School of Communication, School of Marketing, School of Communication Science, School of Journalism, School of Performing Arts, School of Visual Arts and Media, School of Written Literature and Publishing, etc., which is always listed as one of the top 5 communication schools in New England by annual evaluation of the US News.
The admission proves that the "individualized" and "inspired" teaching of Pegasus satisfies the diverse needs of students to the greatest extent, not only in stimulating their potential, helping them find the direction they truly love, but also giving them abilities of what they need to pursue their dreams. Thus, in the application season of each year, in addition to comprehensive universities, PCS students with art direction can also win the favor of the world's top art schools.
Let's congratulate AL again!
Join Pegasus, make your dream come true!
Look forward to more PCS students entering their dream schools!