Good News From Liberal Arts School: An Offer From Franklin and Marshall College
        Release Time:2022-03-07 10:51
Good news from Pegasus has been coming one after another during the 2022 Application Season! Following the admission of Emerson College with 60 thousand dollars scholarship, the PCS student, SH, received the offer from Franklin & Marshall College, a liberal arts school ranked 42th in the United States! Everything is moving in the ideal direction. Flowers in spring, fruit in autumn, all efforts will be paid off!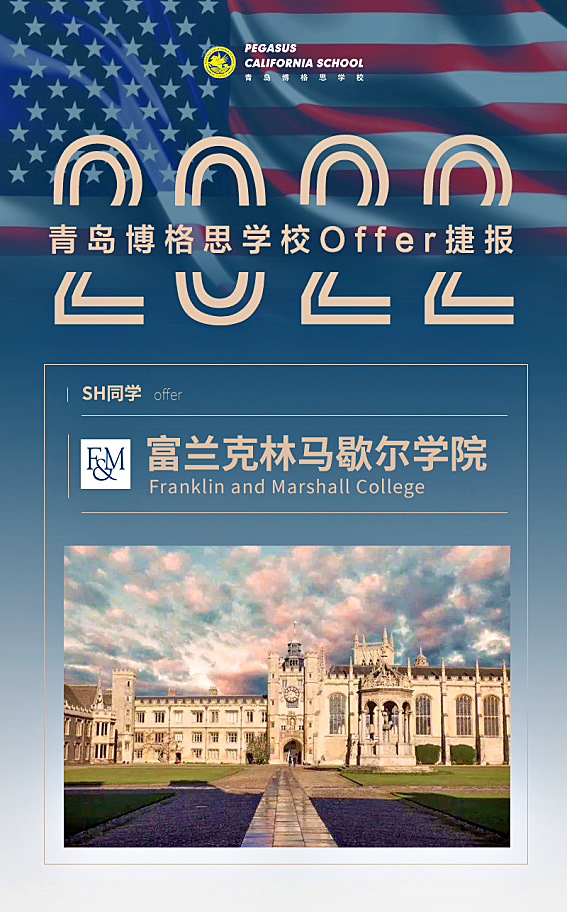 Franklin & Marshall College: Ranked 42nd among American liberal arts colleges in 2022 US News.
Franklin & Marshall College (F&M) is a famous four-year private liberal arts college located in Lancaster, Pennsylvania in the northeastern United States, which has been certified by the Chinese Ministry of Education. Named after Benjamin Franklin,the American Revolutionary leader, and John Marshall, the fourth Chief Justice of the United States, F&M is the 25th institution of higher education and the 17th university in the history of the United States. The school focuses on high-quality elite undergraduate education, especially in biology, chemistry, government, geology and business.
Congratulations to SH!
Up to now, during the 2022 Application Season, PCS has received offers from Imperial College, Waseda University, University of Sydney, Ohio State University, Worcester Polytechnic Institute, University of Massachusetts Amherst, Indiana University Bloomington, Pennsylvania State University University, Emerson College, Franklin & Marshall College and San Francisco Art University, etc.
In Pegasus school, we ensure every student accomplishing his / her dream.
Look forward to more PCS students entering their dream schools!