Congratulations to the Art School! PCS Received an Offer from Pratt Institute!
        Release Time:2022-03-07 10:57
Big News Again!
Following the Comprehensive School and Liberal Arts School receiving offers from world top universities, good news coming from the Art School as well!
The student, AZ from PCS, got the offer from American TOP 4 art college, Pratt Institute.
Everything is moving in the ideal direction
Flowers in spring, fruit in autumn
All efforts will be paid off!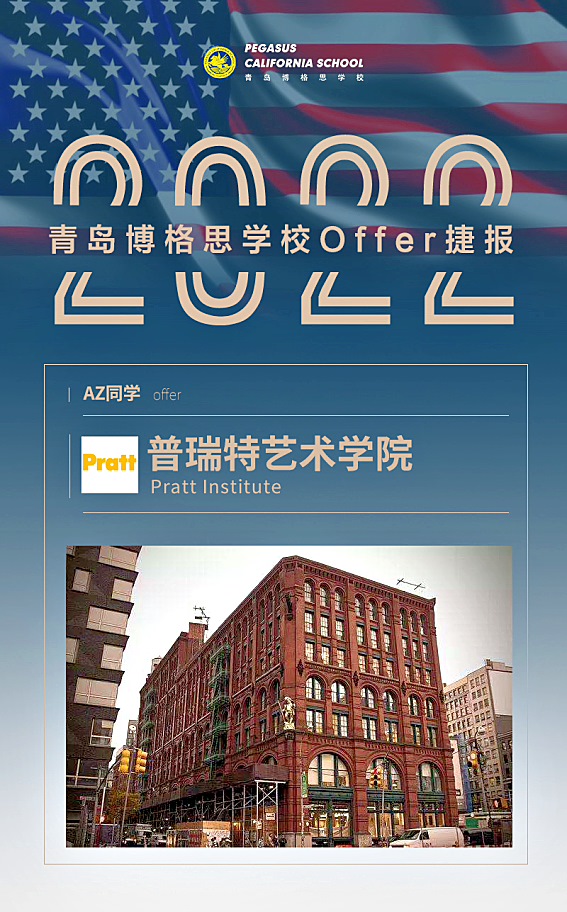 Pratt Institute: TOP 4 art university in the US, and TOP 8 in the whole world.
Pratt Institute, founded in 1887, is an art school in New York city, with a 25-acre main campus in Brooklyn and sub-campus in Lower Manhattan. Its industrial design subject ranks 3rd and interior design ranks 1st in the United States.
Pratt Institute of Art is one of the leading design schools in the United States. It is an applied art school focusing on instruction and research in the fields of architecture, interior design, graphic design, art design, industrial design, fashion design, jewelry design, illustration, digital art, creative writing, history, information science, etc., among which the department of Interior Design ranks 1st, the department of Architectural Design ranks seventh, and the departments of Industrial Design as well as Graphic Design are well-known in the whole country. It has cultivated many artistic talents, including several well-known painters, designers, architects, writers, etc.
Let us applaud for AZ!
Until now
In the 2022 Application Season, the PCS students has been continuously receiving offers from Imperial College, University of Rochester, Waseda University, University of Sydney, Ohio State University, Worcester Polytechnic Institute, University of Massachusetts Amherst, Indiana University Bloomington, Pennsylvania State University, Pratt Institute, Emerson School of Life Sciences, Franklin and Marshall College, Art University of San Francisco and other institutions
"Embracing your dream, Pegasus makes it come true."
Looking forward to more PCS students entering their dream school!