Pegasus 2nd Open House a Success
        Release Time:2016-06-27 15:35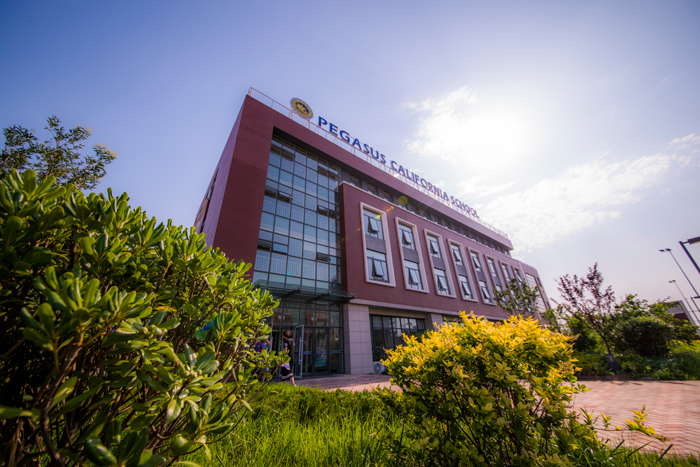 Pegasus Open House event in June 25th and 26th drew attention from both parents and students. The school's largest monthly event attracted more than 200 people. With a vision of realizing a creative and individualized approach to education, the school is always a popular and sought-after choice for 8th, 9th, and 11th grade students and their parents. The school's Admission Open House gave prospective Pegasus students and their parents an overview of academics, extra-curricular activities, arts and student exchange programs.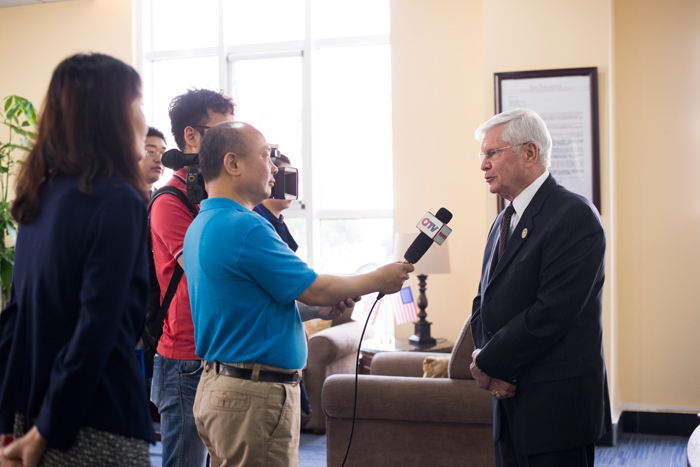 Dr. Long was interviewed by Qingdao TV talking about unique features of Pegasus California School. See the following TV program.
Opening Speech
Michael Xu, the Chinese principal, started by talking about the original purpose of Pegasus, which is to help Chinese students better adapt to American teaching techniques, improve their English proficiency level, and ease their future university study. Meanwhile, he mentioned that attending Pegasus in Qingdao instead of going to an American school can help strengthen emotional ties between family members which is critical for teenagers.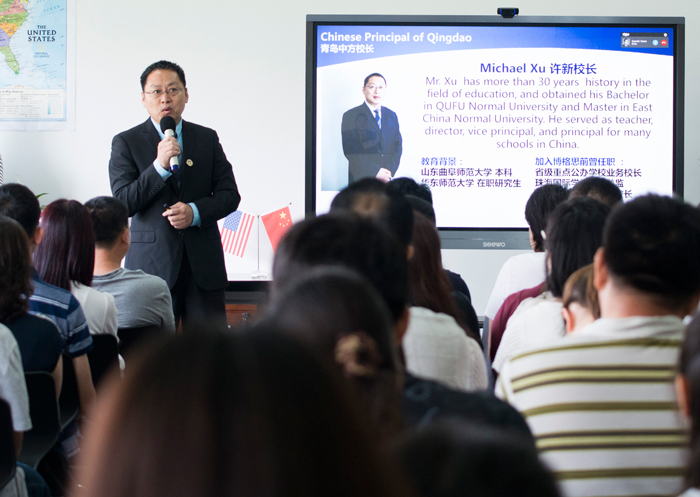 Following that, Dr. Long introduced each our California credential teachers, their academic credentials, 7 years teaching experience on average, and most importantly, their passion and commitment to teaching in Qingdao!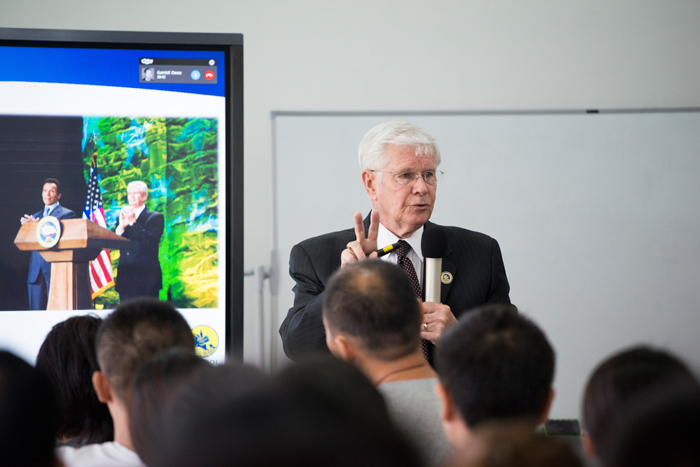 Then Jonathan Schembari, our energetic and enthusiastic mathematics teacher, introduced his teaching philosophy, which is to guide students become critical thinkers. He also emphasized that it is essential for students to take responsibility in learning, to think beyond the surface and to relate formulas to real life scenarios. Mr. Schembari has taught for five years, and his students scored the highest overall in their district on state testing. He has been teaching at Canyons Middle College High School where he teaches his students to engage, explore, and pursue an education in a four-year university. Mr. Schembari enjoys hobbies and activities. He has established many clubs such as, a math club, chess and board game clubs, and a video-game creation club which delves into the world of creative art, programming, and mathematical logic.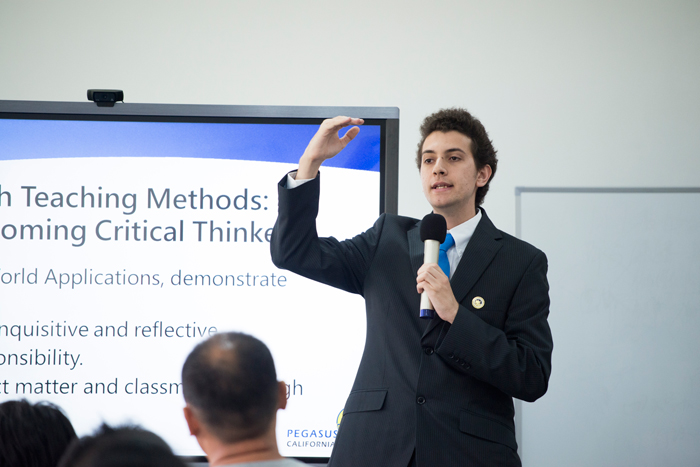 Next came Jeff Normann, our handsome and gentle English teacher. He believes that language can only be mastered by using in various ways, i.e., writing, doing projects, presentation, and debating. He also encourages students to read and write with flexibility and motivation. Mr. Normann earned his bachelor's degree in English literature from UC Berkeley in 2006, studying under a former United States Poet Laureate and the world's top James Joyce scholar. He worked three years as the only foreign English teacher in a high school in Korea. Due to his excellent teaching performance, he obtained Seoul's 2010 Native Speaking Teacher of the year award.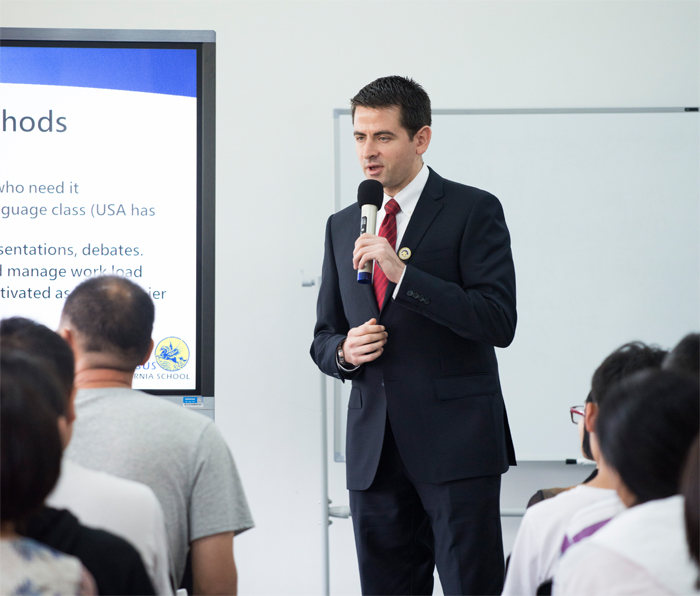 Visit Campus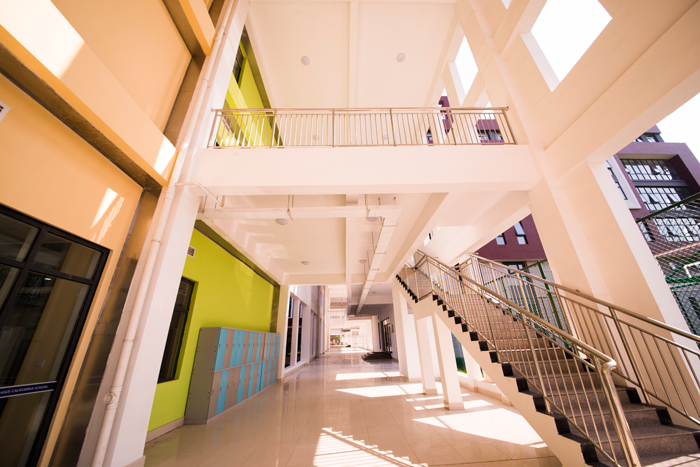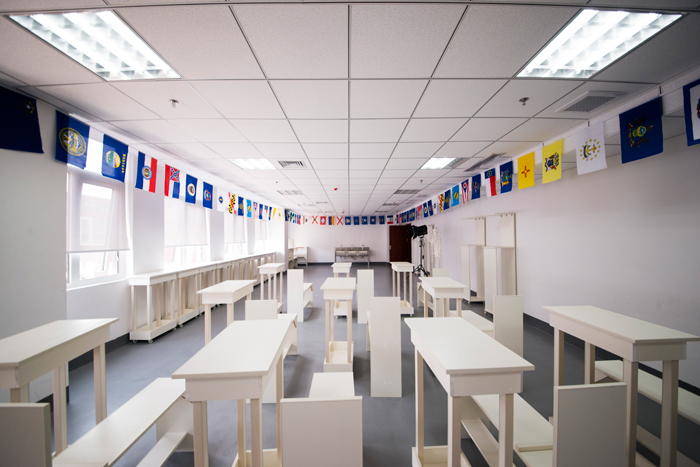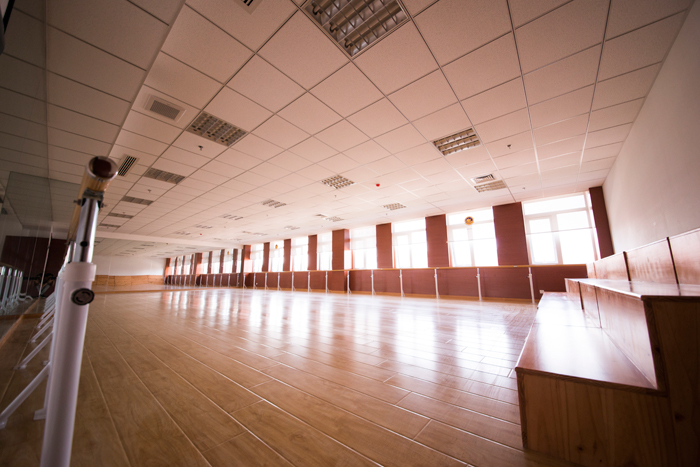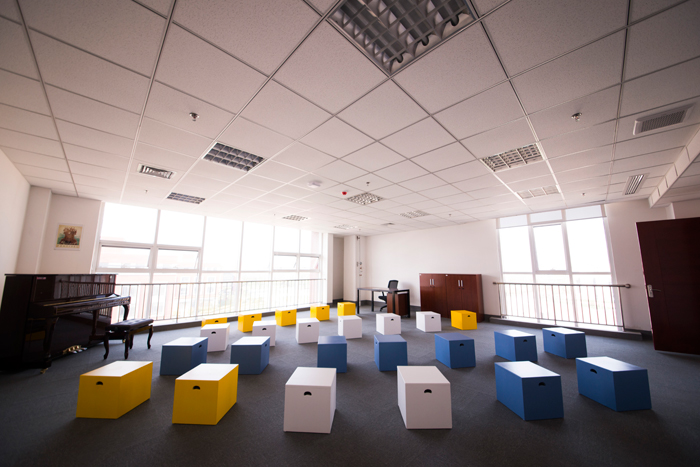 Math and English Demonstration Class
Students had demonstration class with Jeff and Jonathan. In math class, they collaborated with other team members and had hands-on experience to build the highest tower with marshmallow and spaghetti. In English class, students were asked to explain a person or picture without using some taboo words. All instruction was given in English and the classroom was always filled with clapping and laugher.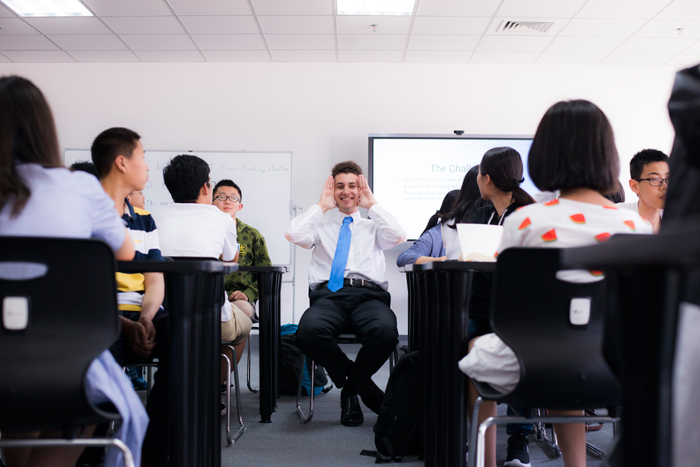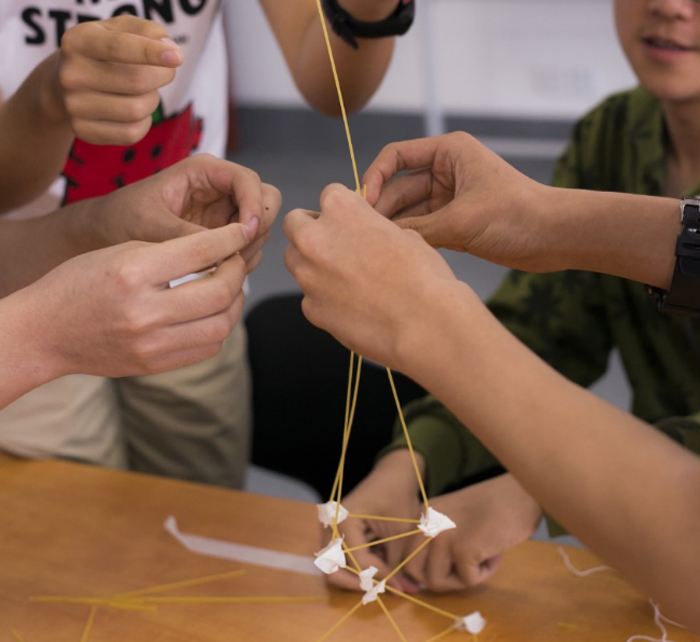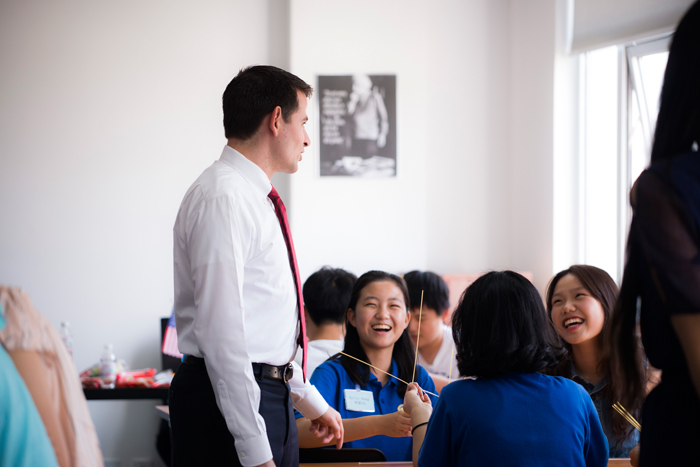 Q & A Session
Q & A session with Dr. Long and Michael Xu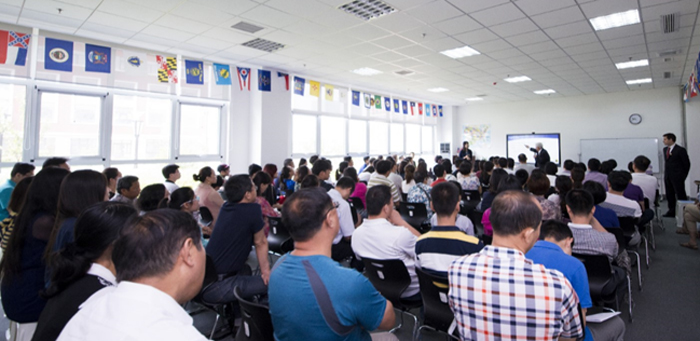 Enrollment Test
Interview with Jonathan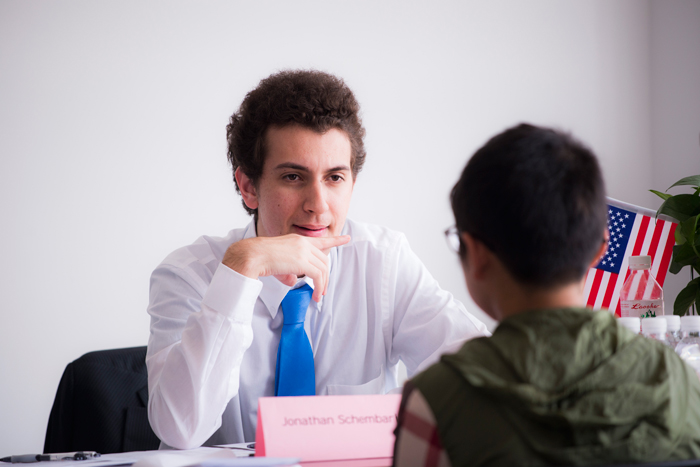 Alan, one of the prospective students, drew a portrait for Dr. Long.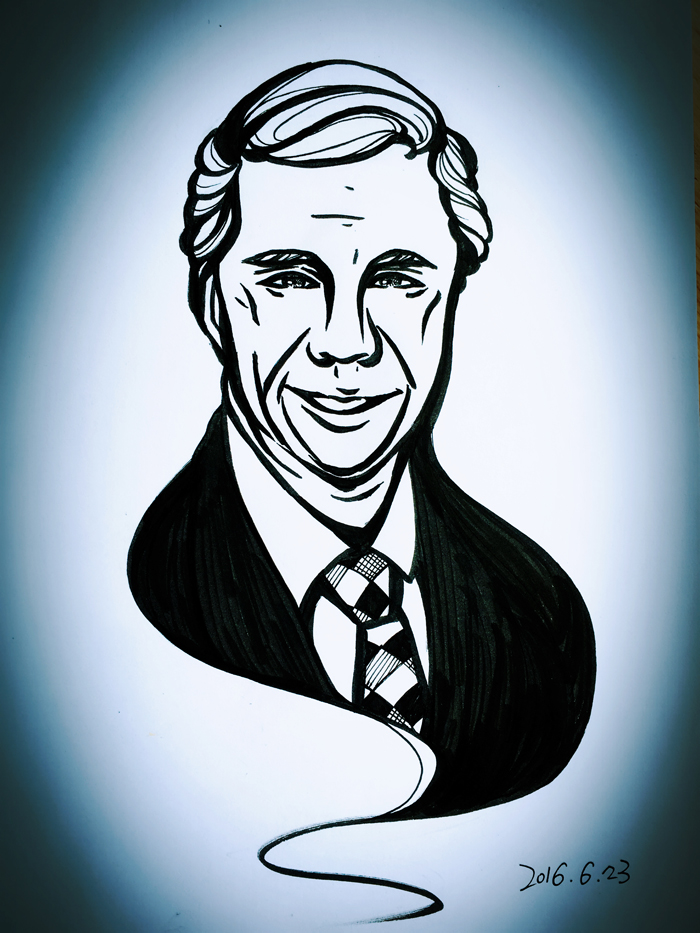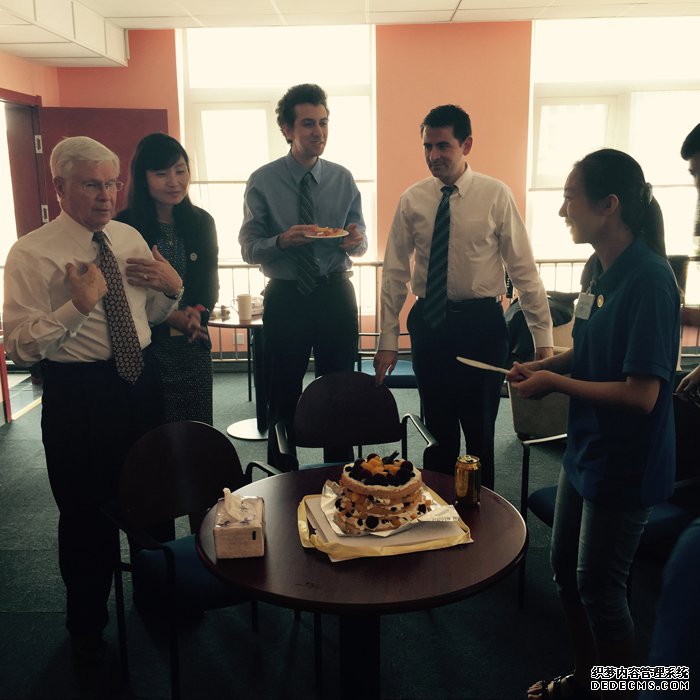 Nicole Zhang, one of Pegasus' student volunteers, celebrated her 15th birthday with the team!

?Pegasus July 9th Open House ?
- To know more about Pegasus
- To have hands-on experience in an authentic California class
- To compete for 150,000RMB Scholarship

Please Call 0532-68013616 or 0532-68013933 to reserve a seat!