Pegasus Admission Open House
        Release Time:2017-01-17 11:44
Pegasus California School had a great turnout at our admission open house last Sunday. Many enthusiastic potential new students and families came to learn more about Pegasus and what our school has to offer. Students had the chance to ask the staff any questions or concerns they may have had regarding the admission process.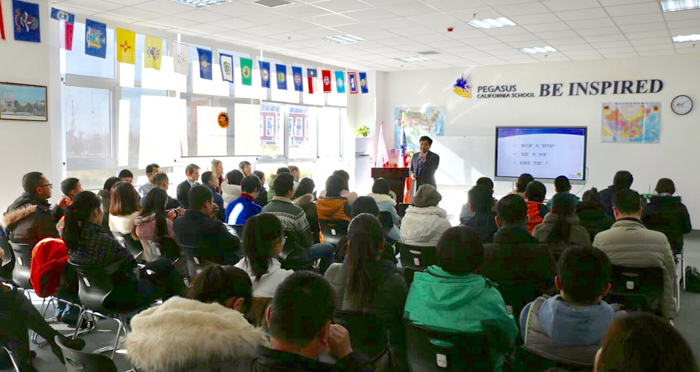 Engaging and Inspiring Academic Courses
First, Eric Yuan, the Chinese principal, told the story of how Pegasus was created. Back in 2013, Steven Ma, the school founder, proposed an alternative to study abroad programs which avoids those risks associated with studying abroad at a young age. Since last September, school has been operating very well and has received much positive feedback. According to Mr. Yuan, Pegasus has broken many records among international schools in Qingdao. For example, Pegasus has enrolled the most students with the highest standards in its first year. In addition, students here have the lowest transfer rate since school started. Even though Pegasus has the highest tuition, our students choose to study here because of our high quality teachers and staff.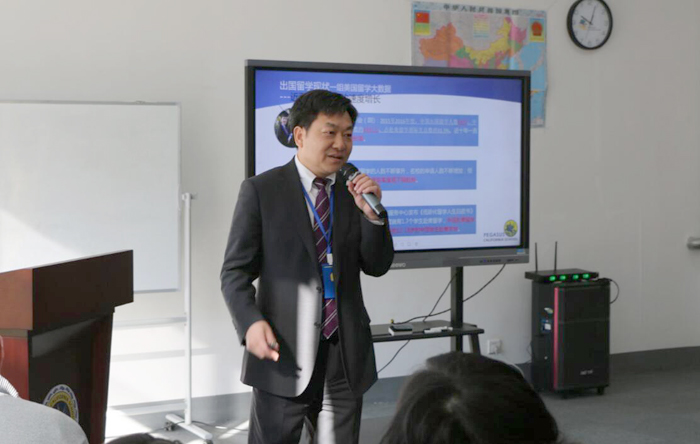 Then Garrick Owen, our headmaster, introduced our teachers, the academic courses, and the California curriculum. The instruction is all in English, all teachers are California credentialed and of very high quality, and we use the California State Stands in our classrooms. Mr. Owen emphasized that above all other features, our teachers were definitely the most valuable asset which distinguishes Pegasus from other schools. Not only were our teachers all academically qualified, but they also teach with their passion and love. Besides regular class hours, teachers also offer students extra help after school every day and organize activities over the weekends. Furthermore, Mr. Owen presented the Parents Plus Portal, the student information system, to help prospective parents understand how to track their kids school performance in the future.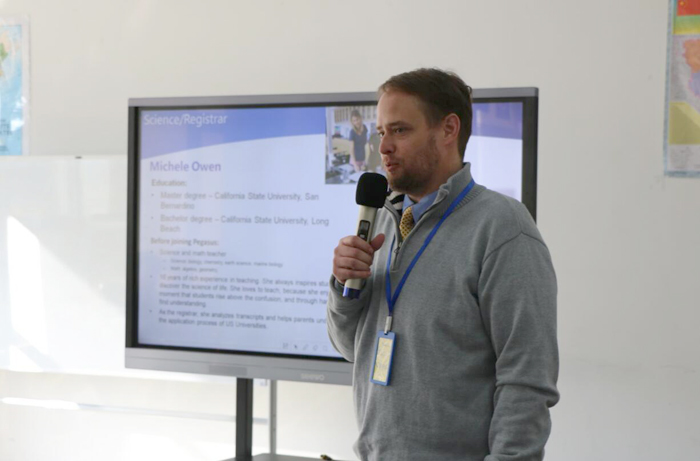 Later on, Mr. Jeff Normann, our English teacher and language acquisition expert, elaborated our English Only Policy and the teaching methodology behind it. After his presentation, audience had a clear picture of collaborative and communicative learning and how it worked in our daily classroom.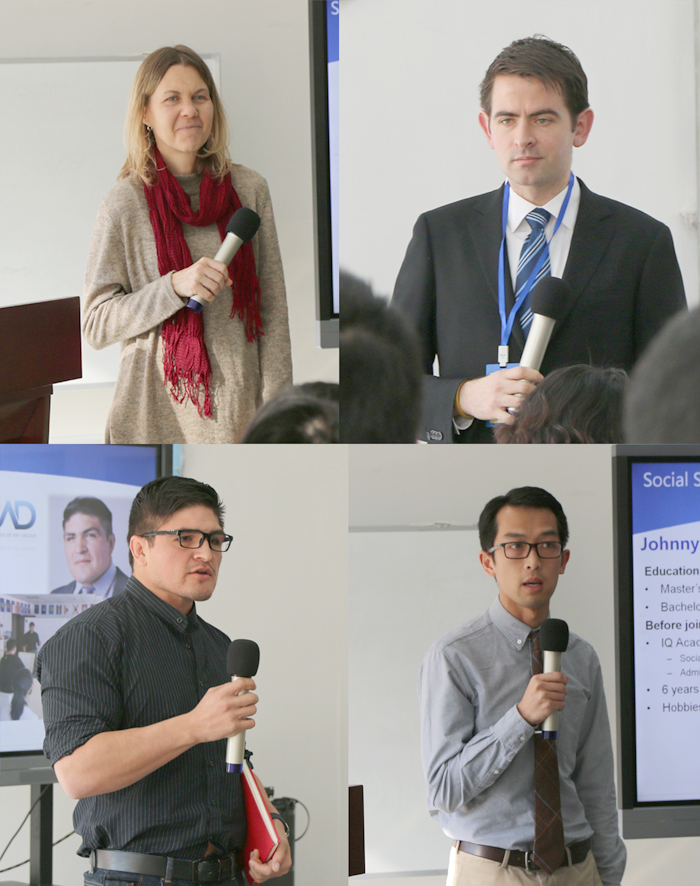 ASB representatives talking about their transforming experience
Four ASB members talked about why they chose Pegasus and what they've learned during this first semester. First, Jerry Zhang, our ASB president, focused on how he became a more efficient and effective leader due to help from fellow students. Then Jason Hay, the vice president, explained to the audience why he transferred from a well- known international school in Hong Kong to here. He stated he wanted to meet more challenges and maximize his potentials, and that's why he made such a decision which he would never regret. Next Ronna Liu, our 10th grade president, explained how she made her decision to come Pegasus and offered some valuable advice on how to choose an appropriate school for your future education. Last but not least, Antonio Jiang, the vice president of 9th graders, gave a brief and humors introduction to the everyday routine and school life which he enjoyed the most. Like the ASB representatives, all other Pegasus students are full of sunshine and self-confidence, marching toward their dreams.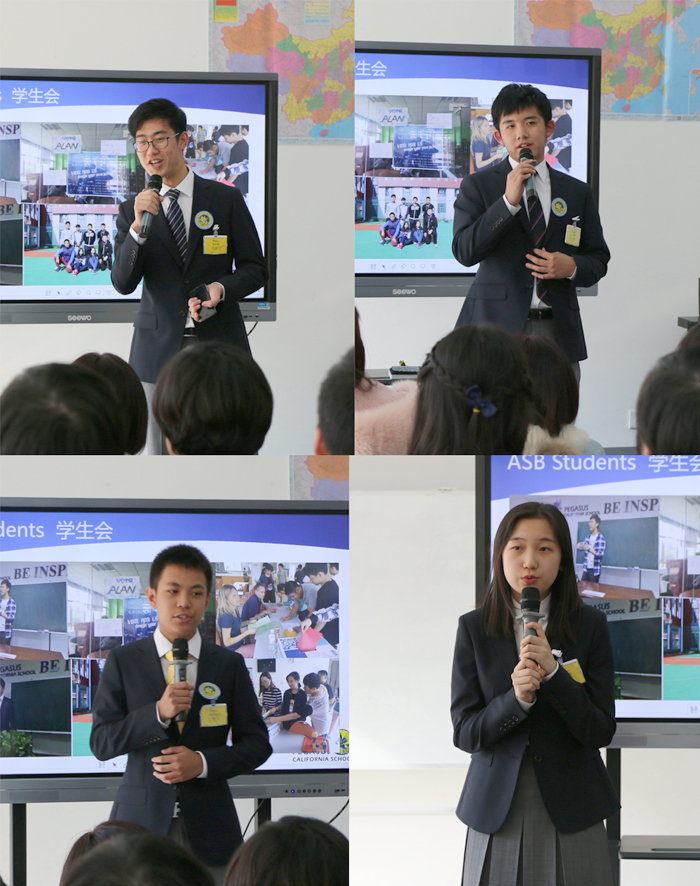 English Demo Class
Mr. Normann taught students an interesting and interactive English lesson with the focus of vocabulary learning. Some students used the clues to act out certain vocabulary while others guessed the mystery words. Mr. Normann encouraged students to communicate in English and not be afraid of making mistakes. The class also demonstrated that the best way to learn a language is to use it. The classroom was filled with laughter and joy.
Qualification Test
All candidates took our qualification tests, including reading, writing, math, and interview tests. Good luck to all prospective students and we look forward to seeing you in the new semester!