UCR big project landing at Pegasus! More than 600 world-class projects, can also get a professor's letter of recommendation
        Release Time:2020-08-13 17:19
In order to make the ambitious students of Pegasus have more access to the global high quality educational resources as well as the most advanced academic knowledge in the world, in order to quickly improve their soft power and academic level. The brand strategy of Qingdao Pegasus School is now comprehensively upgraded in Qingdao.The school will continue to use its own resources to introduce the projects from the world's top schools and will help every outstanding Pegasus students successfully into the palace of world famous universities. Here are two major extracurricular activities the University of California, Riverside (UCR) offers and is authorized to offer:
"Faculty-Mentored Interdisciplinary Research Experience"
and
"Association of Pacific Rim Universities"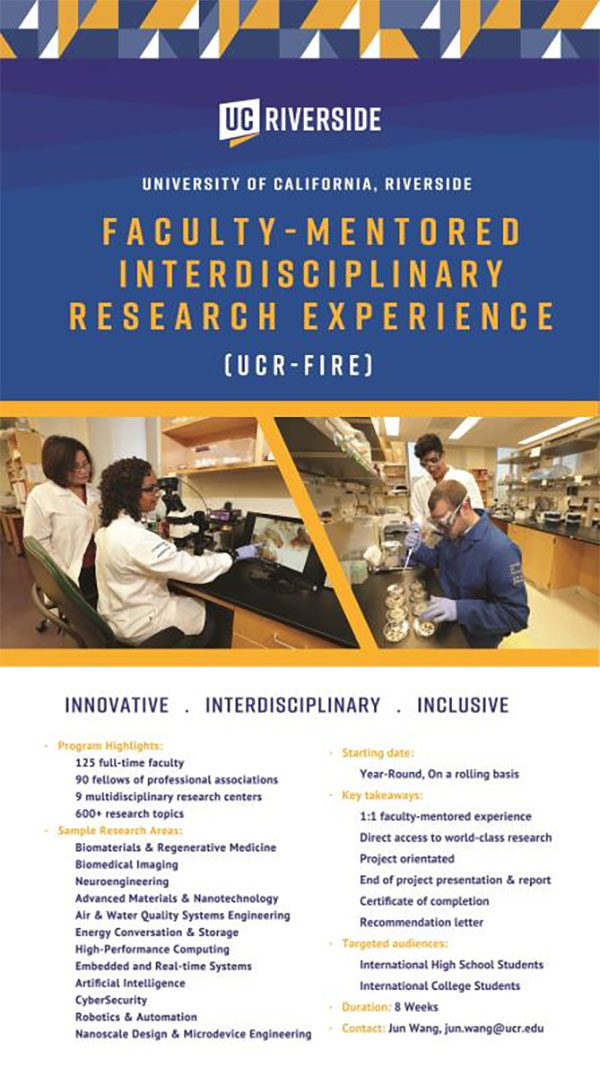 World-renowned University of California, Riverside
University of California Riverside (The short form is UCR) is a world-class comprehensive research university, a famous public university and a national first-level research university in the United States.It is one of the most influential public universities in the world —— one of the ten universities and the fastest-growing university in the UC system. In the meantime, UC Riverside is also a cooperative university of Pegasus.
UCR is rigorous in academics with the world's top agricultural department. Bourns College of Engineering also has a reputation in academia. According to the 2019 US news world university ranking, engineering science was rated No. 69 worldwide (standardized papers cited impact index was rated No.1), graduate pay ranked No. 30 across the United States. Other departments of the university also have a good reputation.The research results of many departments of this university have reached a world-class level. The College of Business Administration and its Gary Anderson Graduate School of Business,School of Liberal Arts and School of Education are well known.
PART 1
Faculty-Mentored Interdisciplinary Research Experience
125 full-time faculty
9 multidisciplinary research centers
600+ research topics
1:1 faculty-mentored experience
Direct access to world-class research
Certificate of completion
Recommendation letter from UCR professors
Sample Research Areas:
Biomaterials & Regenerative Medicine
Biomedical Imaging
Neuro-engineering
Advanced Materials&Nanotechnology
Air & Water Quality Systems Engineering
Energy Conversation & Storage
High-performance Computing
Embedded and Real-time Systems
Artificial Intelligence
Cyber Security
Robotics & Automation
Nanoscale Design & Microdevice Engineering
Starting date:
Year-round, on a rolling basis:
Duration: eight weeks online teaching
PART 2
Association of Pacific Rim Universities
Association of Pacific Rim universities is short for APRU, which is a university alliance of top research universities in the Pacific Rim. Founded in 1997, the Association was co-sponsored by the presidents of four universities, including the California Institute of Technology and University of California, Berkeley. Its purpose is to establish a platform for communication and common development for member universities.
The Association is the official advisory body of the Asia-Pacific Economic Cooperation, providing advice to the Asia-Pacific Economic Cooperation in the areas of science, technology and human resources to help it create a community of Pacific Rim countries. The Association aims to build higher education and research in the Asia-Pacific region, train global leaders and work together to address the difficulties and challenges of the Asia-Pacific region.
As a result, the related extracurricular activities project APRU offers is committed to solving the "Asia-Pacific crisis ", focusing on gender imbalance, ecological health, public health, population aging, urban sustainable development and other important human issues.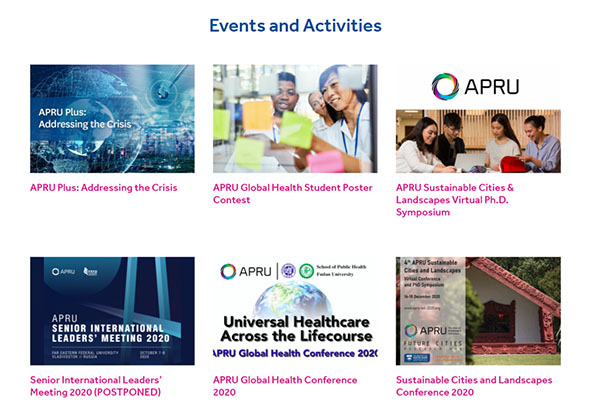 As of July 2020, the Association has 58 members of the world's leading universities ,12 of which are authorized to open APRU related activities, namely:
1、Chinese University of Hong Kong
2、The Hong Kong University of Science and Technology
3、Tsinghua University
4、Universidad San Francisco de Quito
5、Tohoku University
6、Waseda University
7、National Tsing Hua University
8、Chulalongkorn University
9、University of Chile
10、Tecnológico de Monterrey
11、University of California, Davis
12、University of California, Riverside
University of California, Riverside which is authorized to offer APRU courses brings the opportunity to Pegasus students to help them engage in global public goods, improve their international horizons and their own leadership, which are undoubtedly the qualities that future admissions officers value.
The introduction of two quality research projects from University of California Riverside will help students greatly improved in the academic background and leadership, public value, international vision and stay one step ahead of others in the future application to famous universities at a faster step!