Pegasus Story | Favored by five top art colleges, earning a scholarship of over 100 thousand dollars! The Art Path of " Pursuing Dream Girl" Ranny
        Release Time:2021-04-01 16:38
I am grateful for the three years at Pegasus and meeting such" lovely people." here.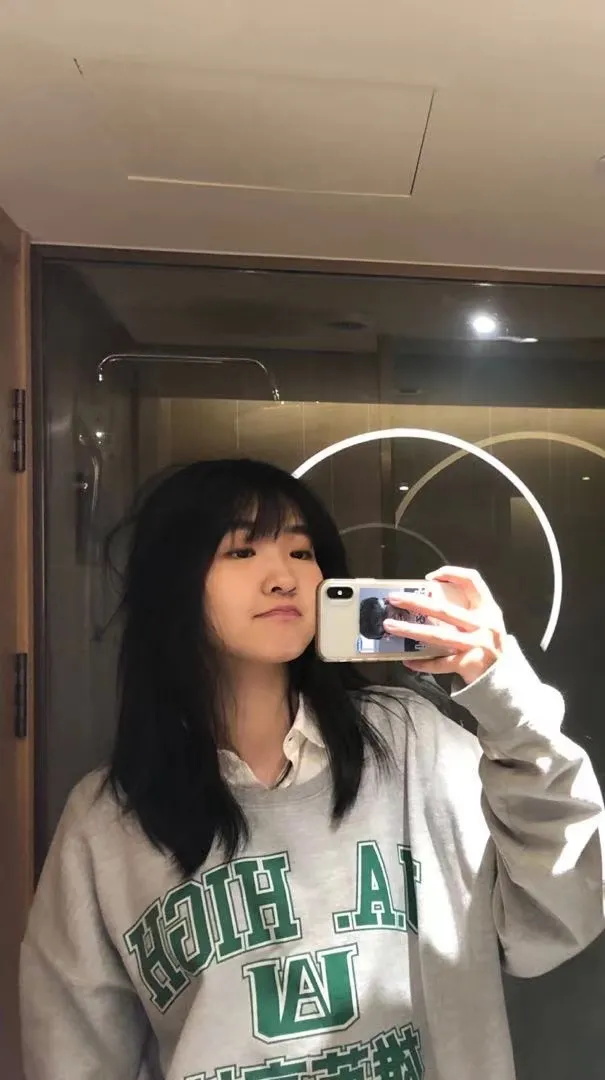 In 2021, students in the 12th grade at Pegasus,
33% were admitted to the top 30 universities,
67% were admitted to the top 40 universities,
100% admitted to the top 66 universities in the United States!
The whole admission ratio and rankings have a qualitative improvement and leap!

In addition to their impressive achievements in admission to comprehensive universities
The admission to art universities is equally brilliant.

Today's "Pegasus Story" will take you into the school
Another "art" girl Ranny's story
With her efforts and talents
Carson, Chicago, New York, ACCD、CCA, etc
The top art schools are caught in one net
And her total scholarship is over $100,000
choose "dreams" or "reality "?
She proved to everyone with her actions
If you dare to dream
The future is within reach!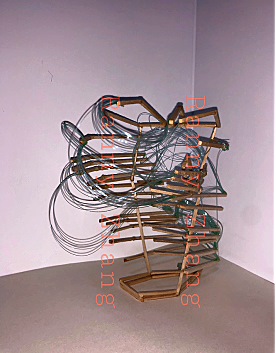 Ranny's Portfolio: Wind

In the process of producing the portfolio, I did not devote my main energy to thinking about the larger social problems, but I decided to start with everything I came into contact with in life. This structure is based on my own understanding of the wind. Through transparent flexible fishing lines and wood strips, I feel the dynamic and wind through the body to express the feeling.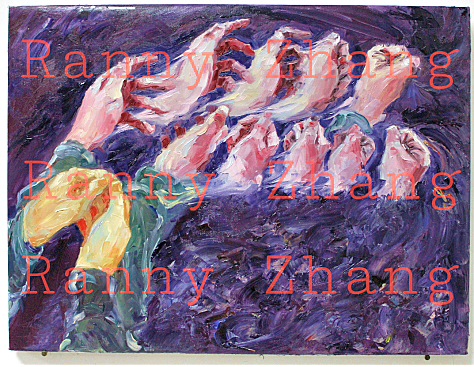 Ranny's Portfolio: To Give In

When I was appreciating the master's work, see the video "Hand Catching Lead" created by Richard Serra created. Through the understanding of the fixed time, according to the" hand and emotion " I created this oil painting.

Has been admitted to five American top art universities
Her total scholarship is over $100,000
Hi, everyone! I am Ranny. After the entrance exam to high school, I came to Pegasus at my tenth grade, so this year is my third year at Pegasus ~ and I have received offers from
Parsons University
, Illustration Major (earned a total scholarship of 64000 dollars),
Chicago School of Arts
(earned a total scholarship of 37800 dollars) for pure art,
Center of Arts Design
( a total scholarship of 4000 dollars) for pure art, California Academy of Arts ( a total scholarship of 13000 dollars ) for animation, New York School of Visual Arts for animation.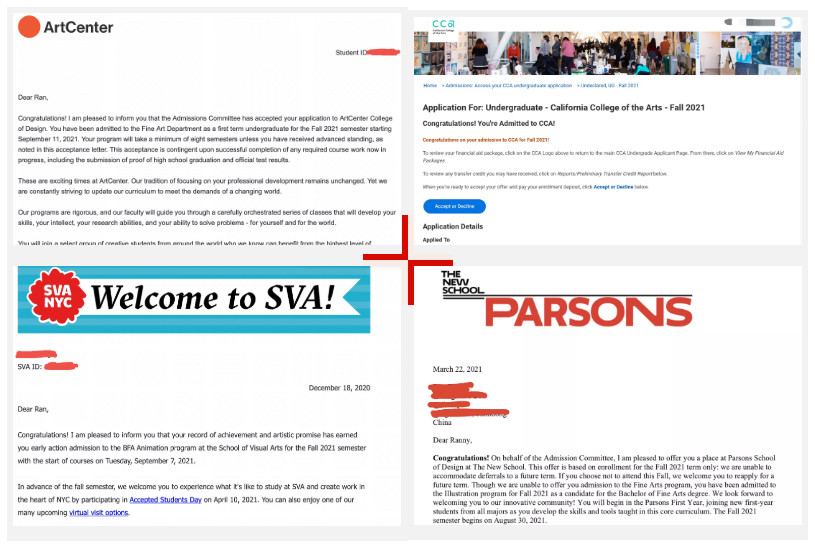 12th grade transition into art between "dream" and "reality" she chose "dream"
From a traditional major to art major
I started studying art during the summer before the 12th grade, when I wanted to apply for a more traditional major, such as business or computer science. When I mentioned to choose art major, my father advised me to study architecture because he was in the construction industry. I think many people think that architecture and art are the same things In fact, if you learn more, you will find that the two are diametrically opposed, architecture is more inclined to science, especially have more physics classes.
I finally decided to follow my interest in art because I usually like watching animation,
I had a dream of doing animation a long time ago,
and I was deeply touched by a summer vacation. I attended Rhode Island Summer School, where I came into contact with many different forms of animation, not just commercial animation like Japan. I feel that pure art has so many forms of expression, I want to learn art, especially animation.
Combination with interest, the pressure will not be great.
I was interested in animation since childhood, to junior high school, is also affected by peers, many people feel that art in the future can not eat, social pressure is relatively large and so on. But by the time I started to choose in my 12th grade in my traditional major, I also felt a lot of pressure, so for this reason,
I decided to do something that would ease the pressure. Combining my interest with application, I finally chose the art major.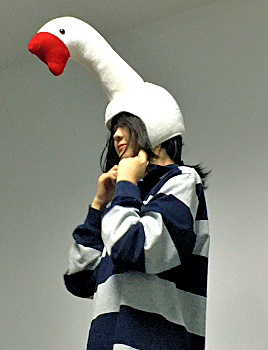 You can always made acquaintance with many people who have same interests as you in Pegsus.
Pegasus faculty & older schoolmate's referral, finally chose Pegasus
Before coming to Pegasus, my parents learned about many local international high schools in Qingdao. On the one hand, my family thought that foreign universities are more conducive to the in-depth research and development of interest and overseas educational resources are also very rich, so they wanted me to study abroad. On the other hand, Pegasus has great faculty and an older schoolmate who was admitted to a very good art school told me that
Pegasus was very close to American high school in the teaching system and could help me adapt to the university environment ahead of time. Pegasus
offers a lot of courses I am interested in, especially art and painting.
Academic preparation during the application season
I was enrolled in two AP courses in the 10th grade and 3 in the 11th grade. Pegasus offers colorful courses. For example, if you are interested in computers, you can learn computer science. If you are interested in chemistry, you can learn Chemistry. I personally attach importance to grades, so I keep my total GPA at 3.8.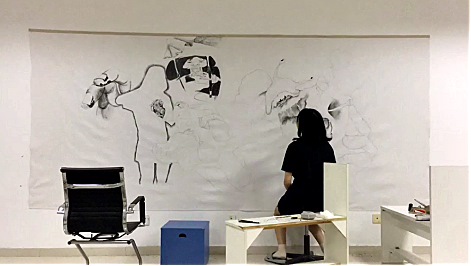 The school atmosphere is not bad.
In Pegasus, you can always meet a lot of people who have the same interests as you,
different from the high schools in public school system.
Everyone here is very willing to share their own things and the school atmosphere is very good.
Students are willing to help each other and do some things together,
For example, I join the school band, responsible for playing the drums. I like to try some of my favorite animation songs. Although I am not good at playing the drums, I can try to learn it.
In the band, everyone has a skill and have the same goal to achieve
. For example, I often see some animation scenes and want to practice according to the music book. In addition to the band, I also participated in the painting club and film club. Everyone is doing their best.
Won in the business competition with paintings
It is a pity that many of my previous competitions were actually business competitions. I remember one of them called YIC "Youth influence Action. I also won the honorable Award. At that time, the theme of the competition was "height discrimination" social problem. I think this phenomenon is common in daily life. At that time, we intended to make a short video, but in the middle of the preparation, because of the pandemic, we changed the plan in time. So here is this cartoon propaganda picture.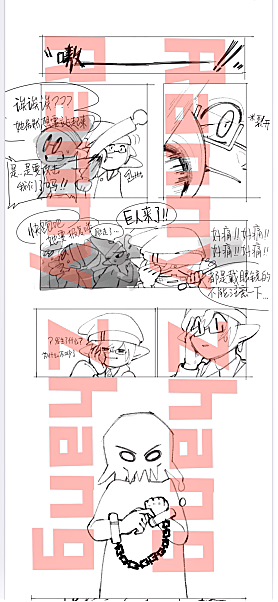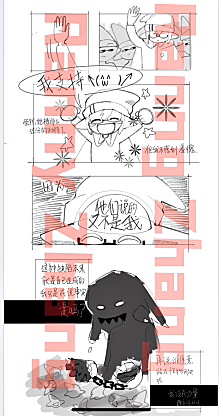 Slide down to see all the works
Note: through the form of strips to show the current height discrimination in life. The works is about the inner reaction when a person encounters a giant shaped by prejudice and belittling.
Apply for art mayjor in Grade 12
Overcome difficulties
Mr. Julio Labra gave me a great help
In the 12th grade I just began to apply for art major. Frankly speaking, it is a little late to prepare the portfolio. I personally feel that my artistic foundation is relatively weak, havn't practiced painting skills for several years, so I have some pressure. At that time in the basic art Mr. Julio Labra gave me a lot of guidance and advice.
Learning about the university requirements is essential
I usually visit various platforms to search for what the portfolio of the university is like, to analyze the advantages of these works. You can't look at them in a general way, you will feel that everyone is "God" and
it is essential to learn about the requirements of the university.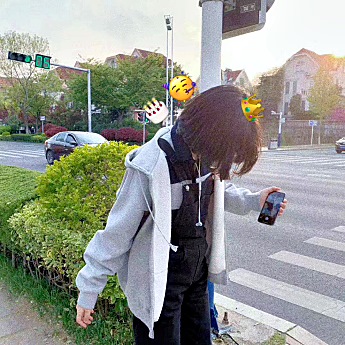 Advice for younger schoolmates
Art application results are not important? No!
I believe many people will feel that applying for an art university feels that academic achievement is not so important. In fact, this is wrong. Indeed, sometimes we can impress admissions officers through porfolio.
But many universities have their own bottom line for academic performance
, such as TOEFL scores above 95. At this point, if the results are not up to standard, we may lose the opportunity to compete.
Taking SAT examination is an accumulation.
Although it is not necessary to take SAT exam in the pandemic year, I also suggest that you try to take the exam.
I think it is not just about scores. Firs
t,
preparing for SAT is to accumulate my English knowledge.
For example, if I go to college, I will study art history and make some speeches. Some knowledge is necessary. You can't say that you can' t understand what people are talking about in college, so you can't ignore SAT.
The preparation of the portfolio, we need to learn more from others'
The preparation of the collection to appreciate other people's works, not to plagiarize, but to broaden their horizons,
such as the habit of reading magazines and newspapers, watching some art exhibitions frequently can broaden our horizons. Besides,
Pegasus is very conducive to the development of art students
, here are a lot of resources,
the whole art studio can become your "paradise "
, you can create your works at ease. As for the portfolio, teachers usually give students a lot of support. My last fixed animation is done under the guidance of Ms. Ge.
The biggest change Pegasus brought me
I think the biggest change is my character. I feel that when I first came to Pegasus, I felt that it was not necessary to communicate with people. But after three years at Pegasus, I know how to get along with people. I think a person wants to go further. First of all, you must have capability and then have others' help.
Along the way, I was lucky to be the "lucky man" who got a lot of help from elder schoolmates, conscientious teachers and nice Counselor
Crystal, whether academics, major or being a good man, I have gained a lot. So I am very grateful for these three years in Pegasus
and meeting such "lovely" people.