News | The first and the only one in the world! Liu Yumeng won the global award of "High School Pulitzer" American high school students media competition!
        Release Time:2021-08-16 16:10
Congratulations to Liu Yumeng, an 11th grade student at Pegasus California School, for winning
the "High School Pulitzer Prize" for the
2020-2021 Silver Award in the U.S. International High School Student Media Competition! (Documentary category)
Only seven people in China won global awards in this year's competition.
The global silver medal won by Liu Yumeng
Not only is it the best result for Chinese students in this competition
It is also the only silver medal in the documentary category worldwide!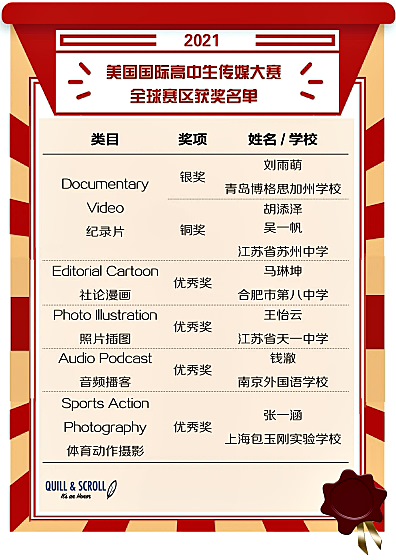 Official Announcement
The American High School Media Competition, known as the "Pulitzer Prize" for American high school students, is organized by the International High School Media Honor Society. The competition, which began in 1926, attracts nearly 15,000 schools from 44 countries and all 50 states around the world each year, and covers four major media categories: writing, photography, multimedia, and design, with 19 sub-themes.
Each theme has a global award and a China award, and the American International High School Media Honor Society invites media professionals to serve as judges for the competition each year. 103 entries were selected to win the China award, and the top 10% of all entries in each theme were selected to participate in the "global award". The number of gold, silver and bronze winners in each category is limited to one, which is extremely valuable! Winners will receive a certificate and a Gold Key from the US High School Media Competition.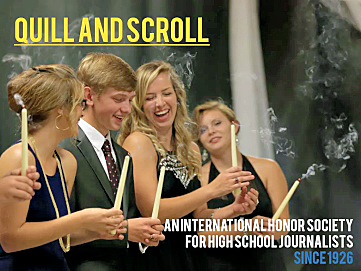 Documentary Video
Documentary Global Silver Award (Individual)
Work Appreciation: Taste of Home
Author: Liu Yumeng-Qingdao Pegasus California School
--Jury evaluation-
The narrative sequence and close-ups were excellent, and it was nice to get a clear picture of the whole process of making a bowl of Wonton through the piece right from the start. I heard more natural sound effects mixed with the music, loved the main character of the story and rooted for her success. She opened a Wonton store and ran it brilliantly. This is a great, relatively simple plot but visually stunning story documentary. Throughout the life of the film's protagonist, she experiences some lows, identifies problems and sees opportunities, and makes changes to start a new journey. While some editing points, flash frames could have been improved, and the audio could have been mixed better, there are many shining points in this piece and I see its potential. Cutting out the natural sound clips consisting of no narration track and only original excerpts wasn't easy either. Very well shot!
Let's once again congratulate Liu Yumeng with the warmest applause!
She is not only the pride of Pegasus
She is also the pride of China!
We interviewed Liu Yumeng for the 17th edition of "Pegasus Voice".
The following is the transcript of the interview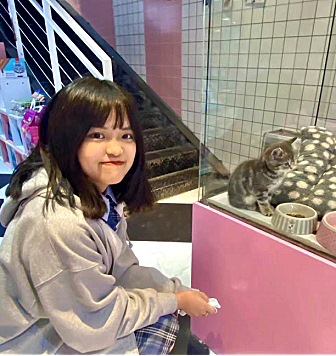 Pegasus Voice No.17
Alice Grade11
JEA honorable award
outstanding team leader
FBLA excellent award
2021CTB National competition invention creation single award and the third prize to advance to the global competition
online volunteering project in ASDAN China
01 "A Taste of Home" wins global silver award , A relationship with documentaries
Hello everyone! I'm Alice, Yumeng Liu, I've been here since 9th grade, and I'm now an 11th grade student at Pegasus, and I won a national and global silver medal for my entry in the American High School Student Media Competition.
Bonding with documentaries
Although my award-winning work is related to "Wonton Shop", I didn't want to make a documentary at the beginning, I wanted to make a film or a microfilm, and now I am applying to film schools, because I want to express some things with my own stories.
However, after I came to Pegasus in 9th grade and joined the Movie Club, I thought it was a movie watching club, but I didn't expect it to be a movie making club. Many seniors taught me a lot of filming skills at that time, and I thought making movies turned out to be so fun. So I opened my own video account at the end of 9th grade semester to record some vlogs and some beauty videos.
I was thinking about going in the media direction, but then I realized that media is more like the stuff that celebrities do, and I didn't want to do that, so I wanted to start applying to summer schools about documentaries. I submitted three entries for the competition, and shot three stores in total.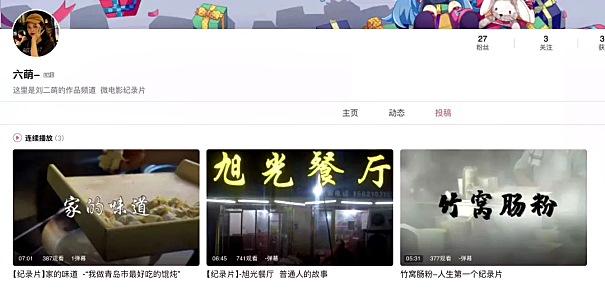 Alice uploaded her documentary work on "bilibili" site account "Liu Meng".
Welcome to watch it!
02 "Auntie's store" --- The story of "ordinary people" and "speechless" love
The owner of the sausage noodle store did not speak Mandarin, so I needed the teacher to translate his Cantonese for me. The teacher told me that I should not let others pay too much attention to you when shooting a documentary, we call it "fly on the wall", that is, we should first get the consent of others and go to shoot something without their attention while not disturbing their own lives. To completely take a "bystander" position to shoot. With the help of the teacher, the final film was quite successful.
The success of my first work also made me determined to continue the series. The second was my aunt's store, when I stayed at her house for one night, I experienced her life for the first time, it was really busy and tiring. Just like my third award-winning work, I didn't want to shoot how delicious the wontons were, but the spiritual world of an ordinary Qingdao person like the store owner.
"Sausage Noodle Shop" and "Heritage"
Just like the owner of the sausage noodle store looks very fierce, indifferent people, but he made the most traditional kind of sausage noodles, his store opened more than 20 years, only after a serious conversation with him to find that he is particularly simple people, his two children help in the store, have not gone to high school, I really felt that he and most of the parents of the family is not the same, our parents will force us to go to high school even if they do not let us go to high school. But he directly let his son and daughter to help in the store, and insisted on passing on the craft, so I named the film "inheritance", which means "inheritance".
My aunt's "wordless" love for my cousin
My aunt has a son who is also my cousin, and he got into college this year, and he is the first person from my aunt's side of the family to get into college. But when I interviewed my aunt I deliberately led to this topic, my aunt cried on the spot.
When my aunt was talking about my cousin, she said she was very proud of him because she would always compare me with him, she sometimes spoke quite impulsively and would often reprimand my cousin, who also liked to run to my house because maybe in he felt that in our house the love of his parents was expressed more directly. In that interview, my aunt's love for my cousin was fully expressed, and she said at the time that she was really happy that my cousin was able to get into college and she was already very satisfied, she did not force him to get into "985" or "211", my cousin was able to It's good to find something you like to do and grow up happy.
My cousin was crying at the time after watching, and called my aunt. At that time I mainly wanted to shoot the parents that silent love, some parents do not express it in words, but behind the scenes it is particularly deep.
I wanted to stop the project, but my father told me, "Hey, there's a wonton store next to my company, right next to Radio Television, and everyone says it's very good. Later, when I watched the finished film, my dad probably thought I was shooting food, but my mom could see what I was trying to express behind the scenes every time, and she was more emotional.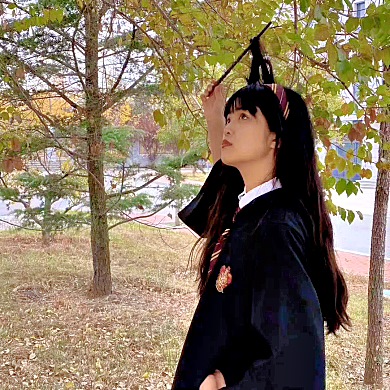 03 "Taste of Home" --- What is that taste?
The owner of the wonton store is a standard "Qingdao aunt", and it was only when I was interviewing her that I realized that the young woman helping in the store was not her daughter, but her daughter-in-law. She and her daughter-in-law really got along as if they were her own daughters, and in order to give the wonton store to her daughter-in-law, she had the intention to cultivate it, so I called the title of the film "taste of home", which is also the name of their store: "Taste of Home".
I think the real "taste of family" is not mutual accusation and opposition, but mutual help and support, giving the best of ourselves to each other.
Unexpected "big helper": the interview should be like a chat
The third shot is not like the previous shot of my aunt, because of the relationship of strangers, when the interview was a bit rusty, but then came in a "big helper", is a very famous host of Qingdao TV, my grandfather is particularly fond of him, he saw what I did and then helped me do the interview, my tripod is still broken, with a pile of books stacked up, the scene is quite a mess. Uncle helped me ask a few questions, he told me, "You have to interview like a chat, not in the form of questions and answers.
I succeeded in capturing the "passion of Qingdao people".
The conversation between the aunt and the children in the film was captured unintentionally, because many people say that the store has a lot of people coming to eat there. I feel that she is very open and enjoys the moment with her daughter-in-law despite her busy schedule.
The biggest benefit of documentaries, the biggest problem is that they "don't need a script"
Another reason I made a documentary is that I can't think of a script, I'm not actually running for a documentary now, but the problem is, if you don't experience real life, you write a script that is also fake. For me, the biggest advantage of making a documentary, and also the biggest problem is that you don't need a script, and you can't give him a script, the final script is always at the moment you edit it out, what you need to do is how to get these things together and get the purpose you want.
So the documentary will not feel like a movie or a script, and I personally don't like the ones with scripts, such as the videos on Jitterbug, they can be copied infinitely, and you can put in anything you want, but real life is not something that can be copied over and over again with a script, and the most touching thing is often the life we personally experience.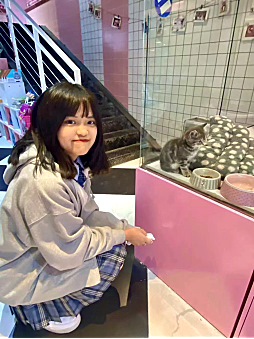 04 From "being a princess" --- to "trying to understand everyone"
I used to be called "princess", my best friend put up with me for a long time, I think she is really tolerant, I used to think you have to spoil me, you can't say anything wrong with me. But this documentary, not my parents, nor my friends, they can not tolerate me, I learned to put myself down, to the lowest to observe life.
In fact, in my elementary school, junior high school, my language grades are the top three, including teachers, my grandparents said I am very observant of life, anyway, shooting documentaries is a good reflection of it, and I am very emotional, such as some small things I can directly cry out, my family can not understand why I cry a lot, this may be the natural emotional it.
Volunteer experience: those who can choose, those who don't have a choice
During the epidemic, there were no volunteer opportunities, so I enrolled in an "Online Teaching" public service project with a group of children from Hainan, and I taught environmental science.
Sometimes I wonder if his life would have been different if he had good resources.
I showed them a short video about a king who had a super power and could turn everything he touched into gold. So I asked them how they felt, and all the other kids were saying that the king was so poor and had lost his daughter. But that child said, "We humans are all relentlessly enjoying the endless opportunities that plastic offers, but we turn everything into plastic, and in the end it's us who get hurt". It's hard to imagine that was a third grader, and I was talking to the child's parents about how well they could raise him, but they thought that was it, and that the child was fine the way he was.
I feel like I haven't really experienced a lot of adversity in life, the ones that are optional and the ones that aren't. My parents forced me to take flute lessons when I was a kid, but I didn't like it, so they dropped the flute lessons, and that was my first and big opportunity to lose my frustration, I didn't take the P.S.E., and a lot of the time it was someone else doing something for me, so sometimes I can't manage to empathize with those in difficult situation, such as that child, if he was placed in a family rich family, his future may really be different.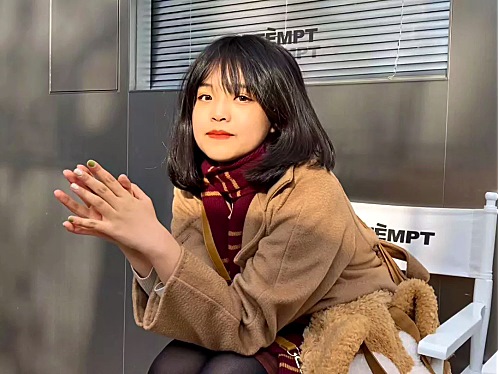 05 Pegasus has given me many --- opportunity to try
Pegasus makes me feel that anything can appear in this place
If I had stayed in public school, I think my focus would have been on getting my grades, but I found that really international schools are so much harder than public schools, with standardization and activities. Pegasus gave me a lot of opportunities to try various things and finally found what I really wanted to do and actually made it happen.
I know a schoolmate who is really good at drawing. Many seniors, including her, gave me a lot of pressure, and they are trying their best to study every day, which is actually the atmosphere of Pegasus senior class. Pegasus makes me feel that anything can appear in this place, if in public school, it's not that I don't want to do it, but more probably I really don't have time and energy.
I am also grateful to Emily, who is in the same grade, for being tolerant of me in every way, teaching me how to deal with people, and being there behind me to encourage and support me when I feel most uncomfortable; and Bard, we both started making movies together when the script was written and the epidemic came, and the seniors left, leaving us two to shoot blindly, so we are also considered like-minded partners; and Suri, who is very similar to me. We often participate in competitions together, and together we can feel the pressure that we don't usually experience compared to our peers.
I hope to be the first student to successfully apply to the film program
I also like Mr. Julio very much, he took us to do a lot of interesting things at that time, a lot of small techniques of filmmaking were learned from him, because he is an art teacher, so far as I know no students in the school have applied for the film major, people may think that the path of the film major is very narrow and not as good as the media major, but I think there are too many people studying media nowadays, besides, I prefer the feeling of working behind the camera than the media. I also want to be part of the team behind the camera, so I want to study film and I hope we can work together to make things better. Therefore, I want to break this status and hope that I will be the first student in my school to successfully apply to the film program.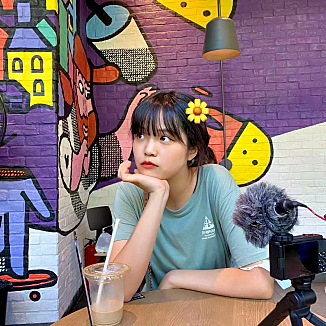 06 The flow of love --- I am lucky to be born in such a family
A father who teaches by example
I felt that no one in my family would oppose me to do anything, and I was really lucky to be born in such a family. At that time, my dad started to read English original books like crazy at a level of English 6 to encourage me to study TOEFL, and he found the best way to memorize words for me. I understood that he wanted to prove with his own practical actions that it was not difficult, we would compete who finished reading first, and after reading we would share, he would always guide me positively with practical actions to do something, just like a good movie, you don't think how good the film is after watching it, but it brings you a deeper meaning behind it.
Mom: the one who can tell secrets
My mom is very different from everyone else's parents, and many people want to run away from their parents. I think my mom is the one who can tell secrets, and I never block her in my circle of friends. She would reprimand me for not doing my job today because my SAT scores are coming out tomorrow, but then she would come around and think she shouldn't have said that about me, and I'm grateful to have such a mom.
Grandpa put love in every detail
Including my grandmother, my grandmother is a very strict person, I was a child to write homework after school must sit across from my grandmother, my grandmother is there to pick garlic, watching me write homework. And my grandfather, he really is very simple, he is busy for me almost every day, every day to our home to deliver a thing or pick something also to run over to give me, I wrote a lot of essays about my grandfather when I was a child, he really did a lot of things for us to make me touched, I will think of him every day now, he is really meticulous to me, the love for me on every detail .
His table is made of a glass plate, how to make it we do not know, although the family is not short of money, but he always liked to go outside to pick up some strange things back to turn waste into treasure, this is his way of life, and then I shoot documentary, I will be able to understand, to want to express the emotions on every detail.
My grandfather brought me into the path of art
My grandfather is a carpenter, he is very handy as a child to me to repair a swing, and he painted the landscape painting is very good, he went to the University of the elderly is also crazy painting, I think every time he talked to me, is a very artistic perspective, we will talk about and art-related topics, I also learned to draw when I was a child, grandpa will point out what did not draw well, he was the first to bring me into the art of people. And my grandma, she has a fat little teddy, now all the focus is on this little teddy, will take everywhere, sleep at night also cuddled together, sometimes she will look very fierce, but in fact is a very gentle old man.
Godmother: the person who inspired me the most on the road to art
The last person I would like to thank is my godmother, who is a Korean graduate from the Central Academy of Fine Arts. She approaches life just a little differently than many Chinese women. She is a person who has a strong sense of life and ritual. She taught me to observe and perceive life and then express it in an artistic way. Every time I finish painting, I go to her store to hang out. She sometimes just draws a sketch, and her works are very stylized. She taught me the importance of originality and doing every detail carefully. She treated me like her own daughter and did everything she could to help me the most, giving and expecting infinitely. She is the biggest relative in my life who inspired me on this path of art.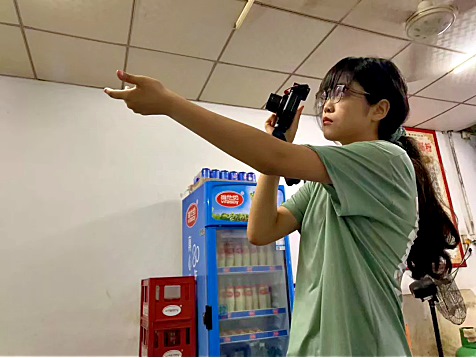 07 No one is absolute --- Just because not enough understanding
So you will find everyone around you, even if you hate people, he will have that very shining point, no one is perfect, including ourselves, so I think not to judge a person at will, but to find the good side of each person, and to do the real rather than false self, with sincere encouragement, love everyone. I think also do not want to say something false in order to be good people, so you will find that those who stay until the end, is the most cherished people.
Just like the owner of that sausage noodle store, everyone thinks he is cold, his face is very fierce and hard to see, but because of the lack of understanding, who will know his love for the children, and the traditional craft of that persistence?