$3000 Scholarship! PCS Received Another Offer from Canada's TOP1 University: University of Toronto!
        Release Time:2022-03-07 09:17
2022 Application Season
PCS students are moving forward invincibly
Good news coming one after another!
PCS student,
BZ received other offer from Canada's TOP 1 university: University of Toronto with CAD 3000,
which is the 3rd offer from Canadian region!
Congratulations to BZ!
Everything is moving in the ideal direction
Flowers in spring, fruit in autumn
All efforts will be paid off!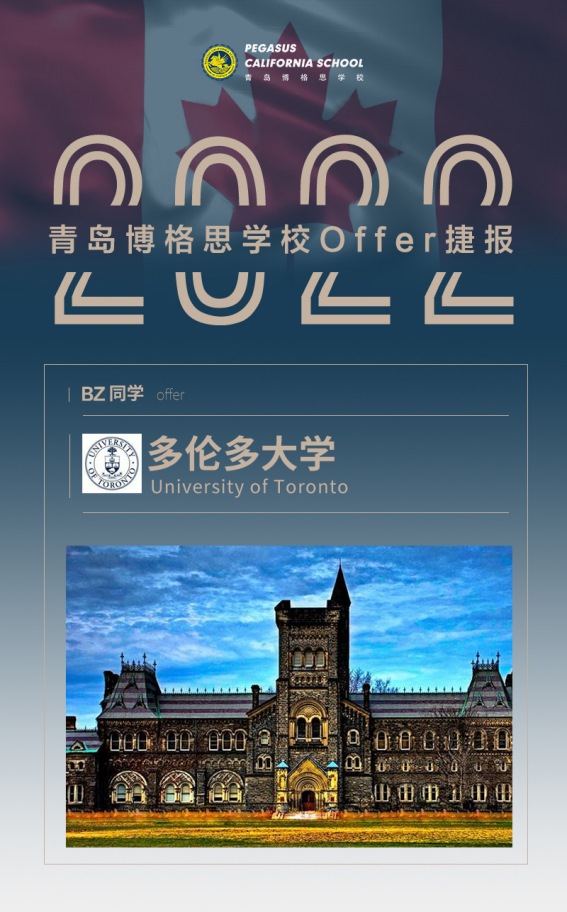 University of Toronto: Ranking 1st in Canada and 16th in the whole world as per 2022 US News World University Ranking.
The University of Toronto, founded in 1827 as King's College, is a research university located in Toronto, Canada, and is also recognized as Canada's TOP 1 comprehensive institution of higher education.
The University of Toronto has 3 campuses: the main campus is the St. George Campus (UTSG) in Toronto, the other two are the Scarborough Campus (UTSC) and the Mississauga Campus (UTM). It has 12 undergraduate colleges, offering various subjects with high scientific research level, large scale, strong faculty, high teaching quality, the latest teaching methods and advanced teaching materials as well as world-class teaching equipment.
There are 11 Nobel Prize winners, 6 Turing Award winners, 5 Canadian Prime Ministers, 3 Canadian Governors and 17 Supreme Court Justices among the alumni and faculty in the university. The number of scientific papers published by the university every year is second only to that of Harvard University, and the number of citation of papers ranks among TOP 5 in the whole world stably.
Let us applaud for BZ again!
The "Multinational Joint Application" of 2022 PCS application season has achieved fruitful results.
Up to now,
PCS students have not only gained admission to top comprehensive universities around the world,
but also achieved good results in art schools and liberal arts schools,
covering various subjects such as business, music, art, film production, etc.,
accomplished and scene of "hundreds of flowers blooming and thousands of stars shining" in multiple countries, multiple categories of colleges, and multiple majors!
This is the real practice of the "heuristic" teaching concept of Pegasus California School!
"Harvest" is in progress! 2022 application season admission list