Exclusive Interview with PCS Founder | Reappointment to Regents Selection Advisory Committee for the Third Consecutive Term
        Release Time:2022-04-01 10:52
On February 24, local time in the United States, Mr. Ma Zhenyi (Steven Ma), former director of the International Cooperation Department of the California Department of Education, founder and CEO of Pegasus California school, was appointed by the California government as a member of the Regents Selection Advisory Committee of UC for a term of two years, which was announced by Anthony Rendon, speaker of the Assembly. This is also the third consecutive appointment of Mr. Ma.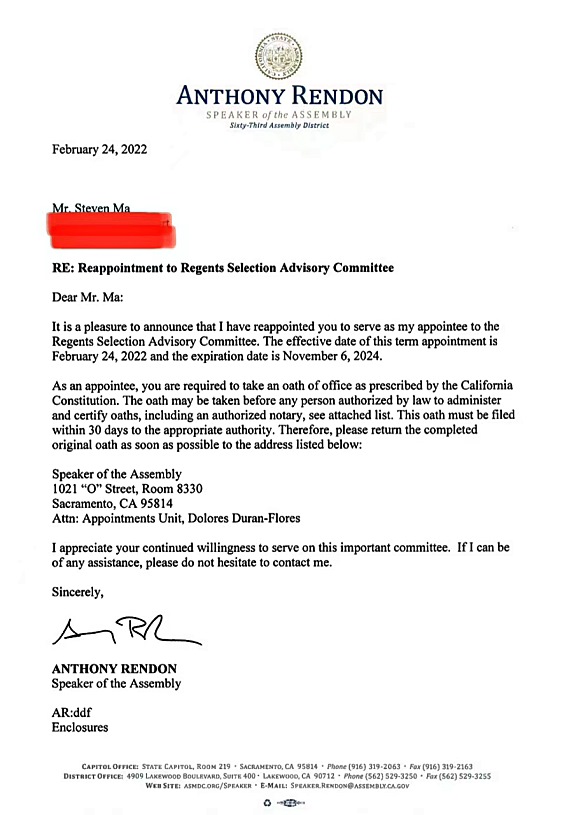 Official Appointment

On March 5, Fang Li bangqin, a well-known overseas Chinese leader in the United States, and Ma Shiyun, the treasurer of California, presided over the swearing-in ceremony of Mr. Ma to be the member of the Regents Selection Advisory Committee of UC.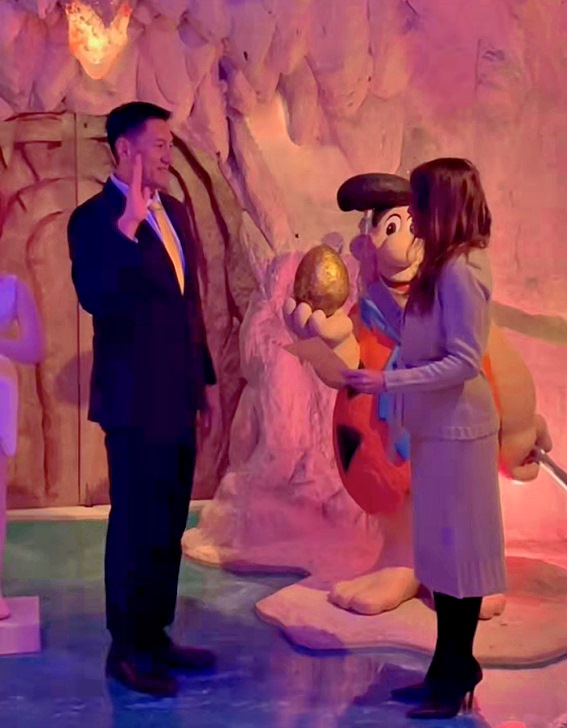 Swearing-in Ceremony
What kind of organizations are the Board of Regents of UC and Regents Selection Advisory Committee of UC ?
What roles are they playing in the UC system?
What is the positive impact of this appointment on PCS students?
What should students pay attention to when applying to the UC?
How to plan their own major?
In addition, what are the founder's school running philosophy and expectation for PCS students?
Recently, Mr. Ma took an exclusive interview by Sheila, a grade 11 student of Pegasus school
Here are all the answers you want!

Q:What kind of organizations are the Board of Regents of UC and Regents Selection Advisory Committee of UC? What are the responsibilities in UC management?

Mr. Ma: The University of California (UC) system is the world's largest public research university system consisting of 10 universities, including the well-known University of California, Los Angeles, Berkeley, Irvine, Davis and so on. According to the California constitution, it is not the California government but the UC Regents that conduct the full management rights of UC. The UC Regents are composed of 26 members with a term of 12 years, of which 12 are directly determined by the constitution and the rest by elected, so the selection and recommendation of candidates is the work of the Regents Selection Advisory Committee where I was appointed. The committee is composed of 12 members: the governor, the Assemble and the Senate respectively choose 2 members, and the rest 6 members are the representatives of the Assemble Speaker, the Assemble speaker, the president of the UC Regents, the UC Student Union and the UC Professors as well as all California university graduates Federation. This is my third term taking this position.
The work of the UC Regents is to make decisions on all affairs of UC, including the adjustment of UC tuition fees, the appointment of UC president, the use of UC funds, and even the opening of a new UC University. For example, UC Merced was opened 17 years ago according to the decision of UC Regents. UC is not under the jurisdiction of the California government, but the property of the UC Regents.
The work of UC Regents Selection Advisory Committee is to discuss and decide the final candidate list among a large number of applicants every year and recommend it to the governor of California. The candidates can be appointed only after being approved by the governor and then submitted to the Assembly for final deliberation and approval.

Q:Congratulations on your third time to be the member of the Regents Selection Advisory Committee. Can you share the reasons for your reappointment?
Mr. Ma: Among the 12 members of Regents Selection Advisory Committee, 2 were directly appointed by the California Assembly, and I was one of them. Before serving as a member of the committee, I was Minister of foreign cooperation in the Ministry of education of California and my work is to become an ambassador for international educational exchanges by virtue of the successful experience of establishing PCS in China and promote California education all over the world. I have done this work for two years. Earlier, I had worked in the California Asia Pacific Affairs Committee for eight years to strive for more rights from the government for the Asian Americans who account for 16% of the population in California, so I have been contributing my part in the past ten years.
Q:What is the positive impact of this appointment on PCS students?
Mr. Ma:I think the most positive impact was that I was able to share the first-hand information released by the UC system with PCS students and parents. For example, before the epidemic, UC Riverside formed an alliance with 56 top universities in the world, including Tsinghua University, Japan's Waseda University, etc, a lot of academic resources and internship opportunities were shared among them. Since I knew about this first, I referred this information to PCS, and it became the first international school they cooperated with in China.

Q:What's your advice to the students who plan to apply for UC?
Mr. Ma: The application itself of the University of California in the past two years has become more and more severe, but due to the reduction of funds, in order to increase the school's financial revenue, international students like PCS students can be more favored by UC. As a public school, about 50% students in UC are Asian students for many years. In order to balance the proportion of students and increase the number of Latino and African students, UC canceled the SAT scores in the name of the epidemic. For local Asian students in California, the difficulty of applying has undoubtedly increased a lot.
However, such changes have no effect on PCS students. I predict that UC will still favor PCS this year, because it is entirely based on California's education system and "seamlessly integrated" with California education system. The admission of 16 PCS students to UC Davis is the best proof, and it is just a beginning.
For students who want to apply for UC, my suggestion is, as UC has canceled SAT scores, you must get a high GPA, and enrich your extracurricular activities. If you go to other private American universities, you still need to pay attention to SAT scores. Although some universities do not make hard requirements because of the epidemic, it is better for your application anyway.

Q:What do you think of PCS motto: Be Inspired?
Mr. Ma: I believe that the essence of education is not simply imparting knowledge, but actually "inspiration", which is why the school motto is "be inspired" - our ultimate educational goal is to guide students to explore their own potential. Under the inspiration and guidance of schools and teachers, children should know who they are, what they are suitable for, what they should do, who they want to be, and what kind of future they want to have. In this way, "teaching according to their aptitude" can be really achieved.
PCS is a full-time international school in China authorized by the former Minister of Education of California, USA. We have perfectly copied the original California education system to Qingdao, and achieved a seamless connection with the California education system. The courses we teach are from the California curriculum, and last year, we have been accredited by some major accreditation agencies including IEE, SpanTran, WES, ECE, and fully recognized by universities in various countries around the world. This year, we have students that were admitted to Washington University in St. Louis, which ranks No.14 in the United States. There are students that were admitted to Berklee College of Music, Emerson College, Pratt Institute and German University of the Arts, University College London, University of Toronto, University of Sydney, Nanyang Technological Institute, Waseda University, etc. These students found their life goals in PCS, and the overall admission performance each year has surpassed the past, which is the best proof that PCS is running in a right direction.
As the PCS founder, the purpose I established this international school is to give Chinese children the opportunity to truly explore their potential. Judging from our current achievements, there is no doubt that we have accomplished the vision of "be inspired" that we have been adhering to since the beginning.
Q:How should students choose the country and major when studying abroad?
Mr. Ma: Objectively speaking, the countries that Chinese students prefer are the United States, the United Kingdom, Canada and Australia. As there are some relations between Qingdao and Germany, some Qingdao students also take the country as a choice. However, when choosing a country for studying abroad, we need realize their respective characteristics.
Compared with other countries, American universities pay more attention to "innovation" and cultivating innovative talents, such as Google, Facebook, apple and Tesla. These are companies founded by Stanford University Student circle in Silicon Valley, so this innovative atmosphere is very deep in the culture of American universities. Britain is more traditional. If you want to do hotel management, tourism and finance, this country is a good choice. Germany is more rigorous and industrialized, so it is a good choice if you want to become an engineer and technician.
If you choose a major, from the perspective of development, my suggestion is not to look at the subjects you are learning now, because things may change in the next seven or eight years when you enter the society. Jobs said: "when you're playing hockey, don't chase the ball, but anticipate where to intercept it.", which means that we should learn to look at the trend.
From my own point of view, I think the personality is the most important. Even if you earn more money, you should not do what you don't like to do. If you don't like it, you can't last long and you won't gain a sense of achievement. You can choose what kind of major you are interested in. If you like music creation, it shows that you are very creative, you can choose majors related to creation, such as film, art and animation, including the popular meta-universe; If you like sports, you can choose a major like sports management; If you are interested in biology, you can study bioengineering, doctors and so on. In fact, American undergraduates do not focus on their majors. You will find that the courses taken by American undergraduates in the first two years are almost the same, and there will be professional courses in their last two years. Therefore, American universities hope that students can be as knowledgeable as possible, be inspired, broaden their horizons, and find their interests.
So when choosing majors, my suggestion is to focus on your own interests. You can always find profitable job opportunities within the scope of your interests.

Q:What's your expectation to PCS students?
Mr. Ma: There is no doubt that PCS enrollment rate is excellent. Everyone can see it, but this is not what I am most proud of.
I once ran a training school with 80000 students and more than 500 teachers in the United States, but helping students improve their test scores didn't give me a sense of achievement. I think the pursuit of scores or admission to universities is not the ultimate goal of life evolution. I really hope that PCS students can become honest people, can become the people who pursue themselves bravely, the people who have a clear understanding of themselves and people who are willing to help others through the influence of these four years in PCS. I think this is the most fundamental purpose of education, and it is these qualities that can really change our lives. This is also my original intention of running Pegasus school.
Perhaps the most intuitive and fastest way to know whether a school is successful is to see its enrollment rate, but I think this is a superficial way. The real success may take 20 or even 50 years to be truly recognized. I hope our students are happy and healthy physically and mentally, don't have too much pressure, and develop good values, such as honesty - even if there are some things that is not good for you if you admit it, you still should do it, because the current disadvantage is only temporary, but in the long run, it can cultivate your honest heart, and you will become happier and more energetic. Moreover, it is important to cultivate the quality of transposition thinking and being willing to help others. I believe that if you can do this, you will be successful in your way eventually.